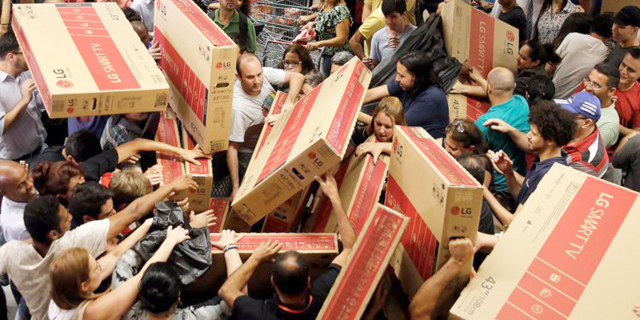 List
6 Technologies to Make Your Black Friday Shopping Spree Easier
Whether you love or hate shopping, these Israel-linked tech companies can make the experience much easier and a lot more fun
Elham Nasser Eddin
|
08:06 22.11.2019
There are two types of people in this world—those people who love to shop and those who cannot stand it. Whether you like shopping or not, it often comes with some annoyances, like having to stand in line to try on a shirt or having it delivered directly to your home only to find it does not fit.
Ahead of Black Friday, here are six Israel-linked companies aiming to make shopping much easier and a lot more fun
Trigo
Founded: 2018
Based in: Tel Aviv, Israel
Founders: Daniel Gabay, Michael Gabay
After filling a large cart with consumable often half melting goods, nobody likes to stand in line for checkout at the supermarket. Shopping automation startup Trigo Vision Ltd. helps you bypass the line. The company's technology uses in-store ceiling-mounted cameras to identify items picked up by customers and automatically charge them as they leave the store. Last month, the company announced London-listed supermarket chain Tesco PLC will integrate Trigo's technology into its app letting registered customers using the Tesco app will be able to purchase products without having to use the check-out counter. Tesco has raised $29 million, not including Tesco's investment.
Founded: 1999
Based in: Israel
Founders: Ronen Luzon
Sick of purchasing things online that don't fit? Nasdaq-listed My Size Inc., formerly known as Knowledgetree Ventures Inc., develops an app that helps customers take accurate measurements of their body, letting them guess their size more accurately when shopping online.The company's measuring technology utilizes existing sensors in smartphones to measure distance and volume. It can also be used for measuring available space in a room or storage facility to make sure a certain piece of furniture or item fits. Brayola
Founded: 2012
Based in: Tel Aviv
Founders: Orit Hashay
Brayola Fitting Technologies Inc. operates an online lingerie marketplace for personalized bras. Brayola uses a smartphone algorithm and an ever-growing database to offer personalized bra recommendations to shoppers. It offers bras by over 100 brands available for purchase on its website. Customers give out details about the bras they own and Brayola recommends other styles with a similar fit. Brayola has raised $11.8 million to date.
Screenshop
Founded: 2014
Based in: New York and Jerusalem
Founders: Mark Fishman, Meir Hurwitz, Jonathan Caras, Molly Hurwitz
Backed by Reality television star Kim Kardashian West, Screenshop lets users take screenshots of outfits they find on the web—for example, one of Zendaya's latest styles—and offers them online shopping lists composed of an array of similar items, at a budget. Kim Kardashian serves as an advisor and a prompter for Screenshop. Incorporated as Craze Inc., Screenshop has raised $9.6 million to date.
Founded: 2012
Based in: Tel Aviv
Founders: Yael Vizel, Alon Kristal, Nir Appleboim
Zeekit Online Shopping Ltd. develops a virtual fitting room where customers do not have to rely on their imagination anymore to conceptualize the content of their shopping cart. Users upload a photo of themselves to the virtual fitting room app, which processes it to simulate how clothes will fit them. Zeekit has raised $9.11 million up to date. Findodo
Founded: 2016
Based in: Tel Aviv
Founders: Benny Melamed, Isik Sonenshtain, Eyal Tirkel
Findodo Ltd. aims to alleviate some of your holiday gift buying stress. Users fill out an online quiz on the people they are shopping for and Findodo uses artificial intelligence technology to analyze the recipients' personality, and then suggests an array of gifts that the user can purchase online.