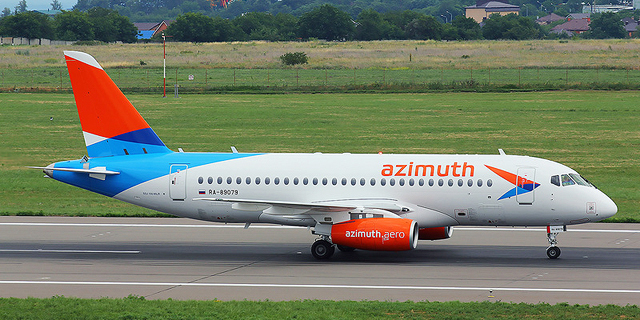 Russian Airline Azimuth Arrives in Israel
Azimuth will operate a twice-weekly route between western Russian city Rostov and Tel Aviv, and also intends to inaugurate two new lines between Ben Gurion Airport and southwestern Russian cities Krasnodar and Mineralnye Vody in 2020
Navit Zomer
: 2019-12-02T12:26:45..
Russian airline Azimuth has officially arrived in Israel. The airline, which operates a small fleet of 11 aircraft, landed in Israel's Ben Gurion Airport for the first time Sunday. Azimuth will operate a twice-weekly route between western Russian city Rostov and Tel Aviv, and also intends to inaugurate two new lines between Ben Gurion Airport and southwestern Russian cities Krasnodar and Mineralnye Vody in 2020.
Azimuth was founded in 2017, and currently only offers flights to Russia, Israel, Armenia, and Kyrgyzstan.