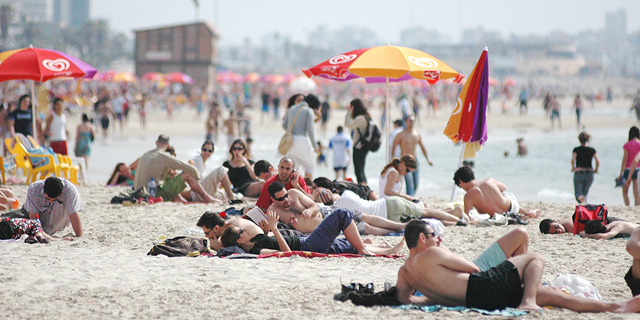 Beach, Please!
Real estate development and pollution are two of the reasons Israel's beaches are becoming too crowded, with an average of 2 centimeters of beach per person, down from 31 centimeters 70 years ago
Shlomit Tsur
|
15:33 05.12.2019
Located on the coasts of the Mediterranean, Israel prides itself on its beaches. But real estate development and pollution are taking a bite out of the country's recreational beaches, according to Tel-Aviv District Court Judge Michal Agmon-Gonen. Agmon-Gonen spoke recently at a conference on environmental law at the Peres Center for Peace and Innovation.
Israel's coast spans 195 kilometers, of which only 20 kilometers are declared safe and clean enough for bathing, Agmon-Gonen said. Based on these numbers, that leaves 2 centimeters of clean beach for each of the country's approximately 9 million citizens, compared to 31 centimeters of beach per citizen 70 years ago. Citing a recent U.N. report, Agmon-Gonen said that during peak season in Israel, an average of 4,500 visitors per kilometer crowd the country's beaches. By 2025, estimates are that there will be 7,000 visitors for every kilometer of beach.
reported
on the Israel Port Authority's plan to construct five new marinas and expand eight existing ones by 2030. The plan aims to increase the number of docking spots for private marine vehicles—most of them yachts—in Israel from 2,900 to 7,600. To halt the eradication of public bathing areas, authorities must act to minimize further development and privatization of the country's beaches, Agmon-Gonen said.