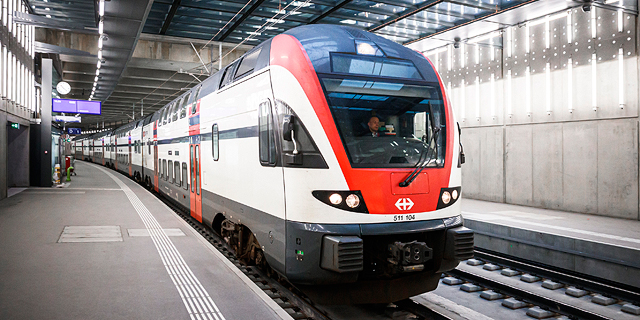 Switzerland's National Rail Company SBB Scouts for Israeli Tech
SBB is looking for collaborations with Israeli startups on eight technological challenges, in areas including passenger occupancy optimization and alternative energy storage and distribution
Udi Etsion
|
13:38 10.12.2019
Switzerland's national train company Swiss Federal Railways (SBB) is scouting for Israeli technology. Representatives of the company were in Israel Tuesday to meet with local startups in sectors such as smart mobility, energy, and big data. Israeli non-profit organization EcoMotion, dedicated to smart transportation technologies, facilitated the meetings, publishing an open call for startups to present solutions to eight unique technological challenges specified by SBB.
Among the issues presented by SBB are passenger occupancy optimization, smart management of railway station parking lots, optimal parking of unused train cars, storage and distribution of alternative energy sources, and virtual reality technologies for employee training.
SBB is looking to select one or two Israeli startups to collaborate with on each of the eight issues, as part of a fully funded three-month collaborative pilot in Switzerland. SBB will invest up to $40,000 in each selected startup. Following the completion of the pilots in May 2020, SBB will announce one winning startup with which it will launch a more extended collaboration.