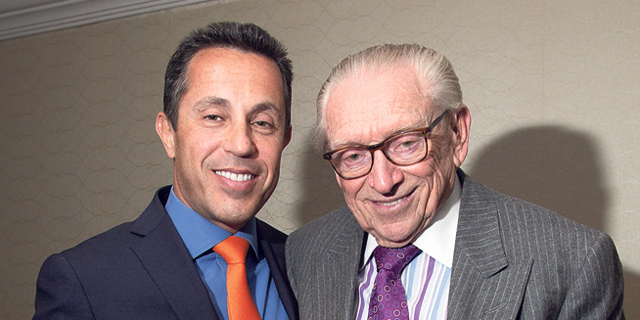 The Israelis Bringing Innovation to New York Real Estate
Real estate companies prefer a mediocre product by an established company over an advanced product by a startup, says Israeli entrepreneur Tal Kerret
Carrie Rubinstein
|
18:13 19.12.2019
When it comes to innovation, real estate is one of the slowest industries by nature, according to Tal Kerret, president of Silverstein Properties Inc. (SPI), the company that owns much of the World Trade Center in New York. Kerret spoke to Calcalist during a tour of the complex, which houses, in one of its towers, the juggernaut's innovation hub and investment arm, Silvertech Ventures. Kerret, 49, was born in Tel Aviv suburb Bat Yam and started his career in tech in the late 1990s with a bachelors' degree in computer science and math from Tel Aviv University. His first startup, e-commerce technology company RichFX Inc., formerly Webglide, brought him to New York. It was acquired by NYSE-listed ChannelAdvisor Corp. in 2002, the same year Kerret married Lisa, daughter of SPI founder and chairman Larry Silverstein. A year later, Kerret co-founded another startup, game developer Oberon Media, and in 2011, he joined the family business.
downfall
did burst the co-working bubble, but there is still a need for shared office space and short term contracts, he said. Silverstein founded SPI in 1957, together with his father Harry Silverstein, when they bought their first property, an industrial loft building on Manhattan's East 23rd Street. As of 2018, SPI had over $9 billion in assets under management, including 1 million square meters of office space and about 2,300 apartments. Among the company's assets are the Four Seasons hotels in Manhattan and at the Walt Disney World Resort in Orlando, Florida, as well as properties across the U.S., Poland, and China. Most recently, in 2018, SPI
attempted
to set up a Tel Aviv hotel in collaboration with hospitality chain Four Seasons Hotels Ltd.The $2 billion project is currently held up in a bureaucratic mess. At 88 years old, Silverstein says he cannot wait for the project to be underway. Others would have given up but we are still trying, he added. SPI leased the World Trade Center for a 99-year period paying over $3 billion in July 2001, just six weeks before the September 11 terrorist attack. SPI currently has three towers on the property, an additional one under construction, and two giant holes in the ground, commemorating where the iconic Twin Towers once stood. According to Silverstein, he could have walked away from the property but decided to stay and rebuild. After the attack, SPI ended up paying $11 million a month on a hole in the ground for seven years, without seeing any income or even a cent of insurance money, Kerret said. Years of legal battles later, SPI managed to rake in $4.55 billion in compensation, in addition to $95 million from the airlines whose planes were flown at the towers by the terrorists. As part of a settlement, SPI got to keep towers three, four, and seven, as well as two, which is scheduled for completion in 2022.