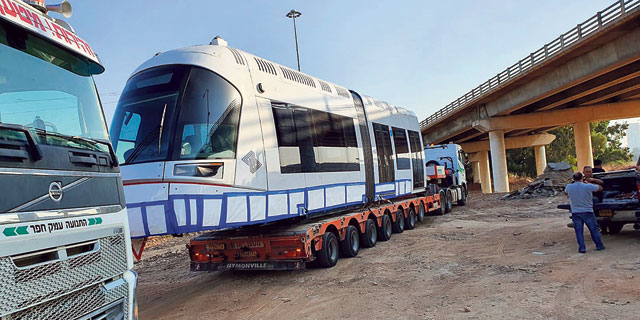 Myriad Flaws Detected in Israel's New, Chinese-Made Light Railway Cars
Potential problems include the possibility of uncontrolled speeding, derailment, wrong braking orders, malfunction of the fire detection system, doors opening during travel, or not opening during an emergency
Lior Gutman
|
17:11 24.12.2019
Myriad flaws were detected in the new, Chinese-made light railway cars headed to Israel. A safety audit report by Changchun Railway Vehicles Co. Ltd. (CRC), the Chinese company that won a tender to manufacture Israel's light rail cars for the planned route between Tel Aviv, Bat Yam, and Petah Tikva, revealed serious potential malfunctions. Israel ordered 90 cars, five of which have already arrived for tests, while the rest are set to be supplied by the end of 2020, ahead of the planned launch of the line in 2021. The report was commissioned by Israeli government agency Metropolitan Mass Transit System Ltd. (NTA). In its review, NTA stated that the findings are not expected to push back the schedule, and no extra charges are expected as CRC will be required to correct the failings. According to the report, reviewed recently by Calcalist, potential problems with the cars include the possibility of uncontrolled speeding; the movement of the cars during passenger disembarkation; wrong braking orders; doors opening during travel; malfunction of the fire detection system; and malfunction of the door opening mechanism during an emergency.
recently pulled cars
manufactured by Chinese Railway Rolling Stock Corp. from the orange line, after they experienced derailment, door issues, and "uncommon noise." When CRC won the tender four years ago, some eyebrows were raised when it was revealed that the Chinese manufacturer was chosen for submitting the lowest bid, NIS 1.27 billion, compared to the competing company, Spanish CAF, which asked for NIS 1.36 billion. A report on the tender process ordered due to the criticism concluded that the structure of the tender placed a low enough priority on quality that it created beyond acceptable risk. The report was later shelved.