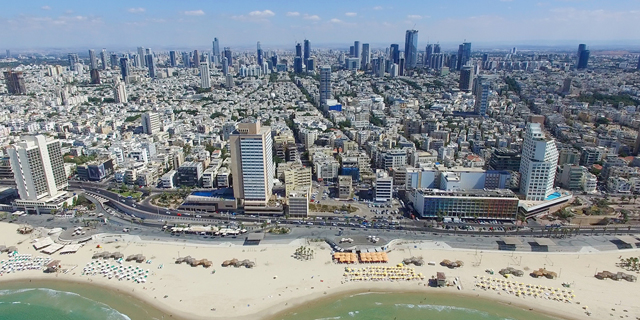 5 Comments on the State of the Startup Nation at the Dawn of 2020
CTech editor in chief Elihay Vidal outlines warning signs for the local tech ecosystem to watch out for in the next decade
Elihay Vidal
|
10:02 03.01.2020
Earlier this week, the Israeli tech industry saw a second very successful decade come to a close. To ensure this positive momentum continues into the next decade, the local industry must pay attention to some negative signs that started to make themselves known this past year. The dependence on U.S. investments, the concentration of the local ecosystem mostly in the greater Tel Aviv area, and the imbalance between private investments and government support are some of the systems that undermine the innovation and entrepreneurial spirit that are so crucial to the local industry. 1. Fewer startups founded
2018 was a turnover year for Israeli tech. According to data published by Israel's Central Bureau of Statistics (CBS), for the first time since the decade began, more startups shut down than were founded. Between 2011 and 2015, startup activity recorded a positive balance, before the scales started to tip over in 2016.
Even though CBS data
shows
certain shrinkage in the number of active companies, it is still an impressive number of companies: 4,363 startups operated in Israel in 2018, an overall annual increase of 5% since 2011. This is presumably part of the general
trend
seen of more money going into mature companies at the expense of early stage startups. If, in 2013, 33% of all venture capital investments went to early stage startups, in 2018 that number dropped to 27% of total investments, and estimates are that final data for 2019 will bring that number to under 20%.
CBS data shows that of all Israeli startups founded since 2003, 16% earned the title of a mature company by achieving a lifespan of at least a decade, reaching production or a viable service, attaining profitability, and employing at least 80 employees. Despite being a relatively small share of all active companies, in 2018 they were responsible for 48,000 jobs—62% of all jobs in Israeli tech.
The sectors where companies are most likely to reach maturity, according to the data, are civil and military defense and security—33% of companies in the sector that have been established since 2003 survived to maturity. For semiconductors, telecommunication technologies, and communication applications that chance was 25%. For companies in the mobile application, however, there are some bad news—only 9% of Israeli startups became a mature company. 3. Startup City, not Startup Nation
Israel is known for the moniker Startup Nation, but CBS' data illustrates how almost the entire industry is squeezed into one city, Tel Aviv. Seventy three percent of Israeli startups are based in this one metropolis, and 79% of all industry jobs. In 2018, 1,869 startups operated in Tel Aviv, 225 companies were founded, and 235 companies shut down. In the rest of Israel—Jerusalem, Haifa, and its central and northern districts—less than 200 new startups were founded in total.
The competition for tech talent is also pushing wages up in Tel Aviv. A startup employee in Tel Aviv makes on average NIS 22,100 (approximately $6,390) a month, compared to the average monthly wage in the sector, which stands at NIS 20,800 (approximately $6,020)—still twice as much as the country's general average wage. Employees in Tel Aviv make 1.3 times the average startup wage in Jerusalem. 4. Government funding is not free of external crises
Between 2016 and 2018, 13% of active startups received a research and development grant from the Israel Innovation Authority (IIA), the government's tech investment arm, a total of NIS 1.7 billion (approximately $491 million in current exchange rates). In 2018, the authority gave NIS 589 million (approximately $170 million), with NIS 117 (approximately $33.8 million) million going to medtech companies. At the bottom of the list are app developers, internet companies, electronic trade companies, and advertising companies, which together received a total of NIS 46 million (approximately $13.3 million) from the authority.
The issue of IIA funding also came up in the weekly review
published
Monday by the chief economist of the Israeli Ministry of Finance. According to the report, in periods of recession, the availability of private money goes down, leading to an increased demand from startups for government grants. However, IIA's budget framework means its grant availability does not go up in response, and sometimes may even drop, leading to increased rejection of funding applications. The report concludes by recommending that the government reconsider its grant policy, with a greater emphasis put on mitigating the impact of recession periods. 5. A dangerous dependency on U.S. economy
The chief economist's report also warns of the too-tight relationship between the U.S. economy and the Israeli venture capital sector. According to the report, Israel's development as a global innovation center was at least in part the result of the abundant capital private American investors infused into the local tech ecosystem. However, just like in the U.S., that means that private funding for Israeli innovation rises during peak financial periods and falls sharply during financial crises. A global recession, therefore, will most likely have a long-term negative impact on the local venture capital market due to the prominent participation of U.S. investors.
According to the report's author, chief economist Shira Greenberg, there is an almost direct correlation between the growth of Nasdaq and the scope of non-Israeli investments in Israel. This dependency was apparent, for example, during the U.S. subprime mortgage crisis in 2008. This could be considered a basic market flaw, as past experience has shown that lack of funding during recessions has led to a premature closure of startups due to temporary lack of funding.