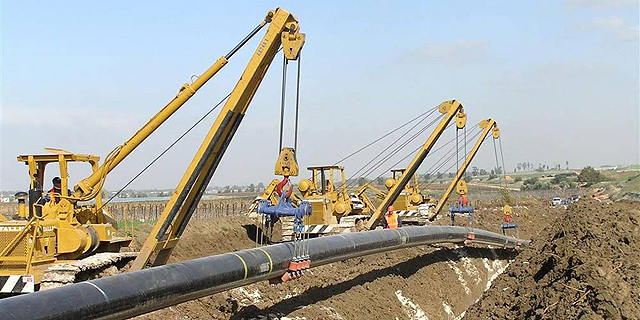 With European Funding, Israel Plans Gaza Natural Gas Pipeline
The pipeline is planned to supply Gaza with up to 1 billion cubic meters of natural gas a year, which could cover most of the strip's electricity needs
Lior Gutman
|
12:23 13.01.2020
Israel's Minister of Energy Yuval Steinitz has ordered government-owned natural gas transmission company Israel Natural Gas Lines Ltd. (INGL) to submit a detailed plan for the construction of a pipeline streaming natural gas to the Gaza Strip, according to several people familiar with the matter who spoke to Calcalist on condition of anonymity.
The order came following a series of meetings between the Ministry of Energy and local and international professional bodies during which it was agreed that the necessary funding for developing the plans, amounting to NIS 10 million (approximately $2.9 million), will come from European sources, most likely from the Netherlands, the people said.
The construction of the pipeline itself is estimated to cost about $60 million and would require a gas contract to be signed between Israeli and Gazan entities, the people said. The ministry estimates the necessary agreements will be signed during the first quarter of 2020 and the pipeline's construction will be completed by 2022, the people said.
The pipeline is planned to supply Gaza with up to 1 billion cubic meters of natural gas a year, which could cover most of the strip's electricity needs, according to the people.