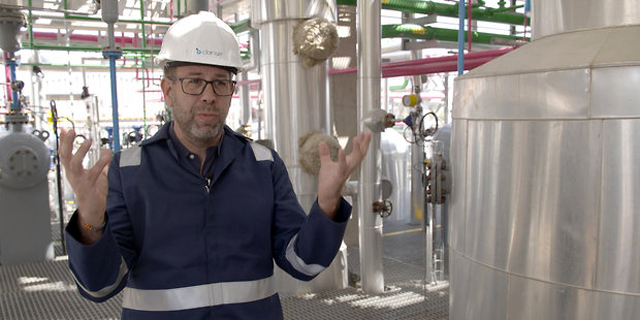 Interview
Israeli Entrepreneur Wants to Turn Plastic Waste Into Baby Oil
Ran Sharon, 49, is the founder and CEO of cleantech company Clariter that promises to take a variety of plastic waste items and turn them into non-toxic, odor-free industrial oil, wax, and solvents that can be used as raw material for various products
Assi Haim
|
09:12 22.01.2020
Plastic products are piling up worldwide, filling up not just landfills but oceans and natural landscapes and threatening to drown the earth in non-compostable, mostly single-use garbage. That much we know. But, quietly, over the past 16 years, Israeli entrepreneur Ran Sharon has been working on a possible solution. In 2004, Sharon founded Clariter Societè Anonyme, a cleantech company that promises to take a variety of plastic waste items and turn them into non-toxic, odor-free industrial oil, wax, and solvents that can be used as raw material for various products.
The company's next factory will provide 60,000 tonnes a year, allowing it to turn a profit, he added.
In five years, Clariter intends to open five new factories and also plans to license its technology for use by other companies, allowing for accelerated growth. With this scenario, by the end of 2028, Clariter intends to produce 1 million tonnes of its a year. "We have an agreement with a major Dutch company that is willing to take all the product we make off of our hands, but we only signed for 30% because I want to export and sell to other customers," Sharon said. Clariter employs 70 people in Israel, Poland, and South Africa and has raised over 35 million euros to date. It is currently working to raise an additional sum of between 15 million euros and 20 million euros in the near future, Sharon said. In the long run, it intends to raise an additional round of 100 million euros, he added.
According to Sharon, Clariter's factories can be set up in urban environments as they produce very few emissions and a test conducted by a Dutch company determined its process was far less environmentally damaging than current plastic disposal methods such as landfill dumping or burning.
"If I could, I would set up 10 factories in Israel and take care of all of the country's plastic waste, but you have to be realistic and start small," Sharon said. This requires a shift in everyone's state of mind—from garbage disposal professionals to regulators—we need to stop complaining and start figuring out how to do better, he said.