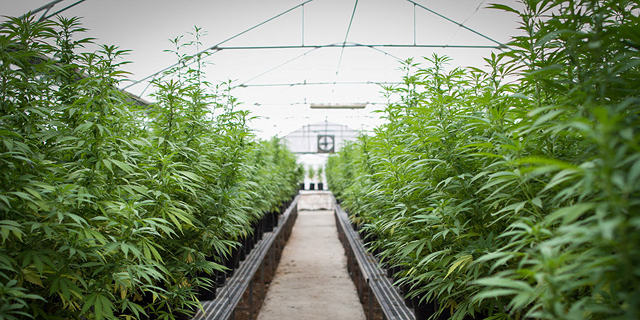 After a Year of Disappointments, the Israeli Cannabis Industry Pins its Hopes on 2020
Calcalist spoke with leading players of the local cannabis industry to see where the wind will blow in the upcoming year
Tzally Greenberg
|
13:11 22.01.2020
The Israeli medical cannabis industry had expected 2019 to be a pivotal year. Planned regulatory milestones caused a slew of former politicians and public figures to jump on the cannabis bandwagon, and experts made grandiose declarations of export potential of up to $1 billion a year. But then came a regulatory reform helmed by the Israeli Ministry of Health that hiked local prices and took Israel's largest medical cannabis supplier, Tikun Olam,
out of commission
. A subsequent appeal by Israeli nonprofit the Medical Cannabis Association to Israel's supreme court put a spoke in the reform's wheels, and the ensuing legal battle means export is currently going nowhere. The second half of 2019 was characterized mainly by stock market drops for Israel's medical cannabis entrepreneurs. With the future of export uncertain and low availability of shelf companies that can be used for fund-raising opportunities by way of a merger, most Israeli cannabis companies are starting 2020 with no income. Many of them now look to the regulator to determine whether they'll survive or have to pack up their greenhouses.
raised
NIS 140 million (approximately $40.5 million) to buy the Israeli, French, and Polish business of cannabis grower Tikun Olam Ltd. The company predicts 2020 will be a year of mergers, acquisitions, and investments. CEO Ifat Kariv told Calcalist that she believes export will start once elections are over and a government is established. Seach Medical Cannabis Group has had one of the highest profit margins in the industry, but its management believes the company will see greater growth in 2020. "Strong stable companies with real assets will continue to realize their potential," board member Yaakov Amidror told Calcalist. "By mid-2020 all the regulatory issues will be organized." While Israel's standing would have been more assured had the export been approved a year ago, it has not missed the train yet, he said—Seach is seeing great demand from several countries and is already gearing up to increase its manufacturing capacity by hundreds of percentages. The health ministry's Deputy Director General Itamar Grotto, who also heads the ministry's medical cannabis unit, puts the start of the export in the third quarter of 2020. During the next 12 months, he told Calcalist, local players will need to fully adjust to the new regulation or they will not survive. The ministry hopes for significant breakthroughs with the addition of new players, Grotto said, adding that he expects medical cannabis prices to stabilize by the end of the year. Grotto also forecasted that the number of medical cannabis patients in Israel will nearly double and that Israel will become fertile ground for cannabis-based pharmaceutical research. "Some or most European countries will adopt wide aspects of the Israeli regulation for growing and manufacturing cannabis in the next few years," he said. Israel's supreme court hurt the local industry, but 2020 will be the pivot year, according to Haim Horowitz, chairman of Tel Aviv-listed Univo Pharmaceuticals Ltd. and chairman of the medical cannabis forum at the Manufacturers Association of Israel. The window of opportunity for Israeli manufacturers is closing, and this must be the year export starts, he told Calcalist. Local companies invested significant resources in upgrading their facilities to comply with the reform, only to run against the supreme court decision. As with every forming industry, regulatory changes are a given, but the ability of local companies to survive depends on government policy. "The relevant potential for Israeli companies is on the global market," he said. "The earlier they can export, the better their chances of succeeding." The Medical Cannabis Association is gearing up for another eventful year, founder and CEO Dana Bar-On told Calcalist. The health ministry's reform has added pharmacists to the middle of the supply chain when it mandated that all patients must now buy their cannabis from pharmacies instead of directly from growers, as was the custom for years. Their addition has caused several clashes, with patients and growers accusing them of contributing to the price hikes and the pharmacists claiming in return that the growers were creating deliberate shortages. Regulatory stability in Israel depends on whether the regulator backs down from the intention to "reinvent the wheel," Bar-Or said. The post-regulation price hikes occurred because the regulator chose to add more middlemen to a system that used to be one of the cheapest in the world, she said, and as long as the situation continues, cannabis patients will continue to fight for their rights. Companies have no purpose without the patients, and the association expects that in 2020, the regulator will adjust the market to the needs of the patients, and not the other way around, she added. "The patient community will continue to be an activist community in 2020 as well, and will continue to demand its rights, be it at the supreme court or anywhere else relevant." "The phenomenon of selective supply will continue at least until mid-2020, so more clashes with the medical cannabis companies are expected," David Papo, chairman of the Pharmaceutical Association of Israel, told Calcalist. The association hopes that the uncertainty surrounding the sector will clear by the end of the year, he said. Cannabis is a medicine and therefore should only be sold at pharmacies, under supervision, he added, but the association hopes that as more growers and suppliers come into play, availability will increase, and prices will come down following its inclusion in state subsidies. Roee Eizenman, co-founder of Israel-based private financial firm Everest Investment Banking, which established a cannabis fund last year, is also predicting 2020 will be a year of mergers and acquisitions. During the year, companies that will secure quality sale agreements and make strides in research will obtain higher valuations, he said. Companies that used the last year to raise funds are expected to remain financially stable for the next two years, he said, adding that as competition will increase, some of the companies will need to make changes that could affect their revenue forecasts and thus their market capitalization. On a wider level, he expects foreign investment in Israeli medical cannabis companies and ventures to escalate. Ilan Gerzi, a senior partner at Israel-based law firm Pearl Cohen Zedek Latzer Baratz, has played a part in most of the mergers and initial public offerings of Israel's medical cannabis companies. He expects that in 2020, the law that restricts non-Israeli investors from acquiring more than 5% of a cannabis company will continue to hinder foreign investments. Furthermore, a lack of shelf companies available for mergers will be a problem, as most cannabis companies do not meet the IPO threshold, he said. Non-Israeli cannabis companies will come to TASE to raise money or debt, however, he said.