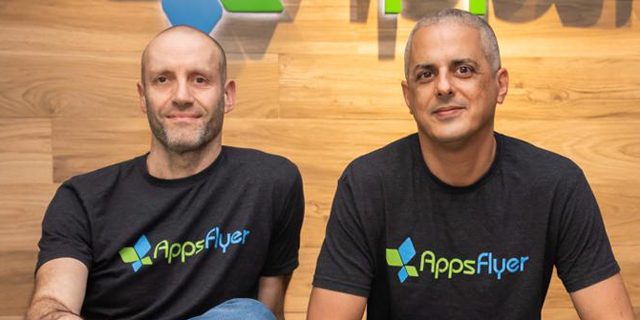 Interview
Our Dream Is to Be the Next Salesforce or Facebook, Says Appsflyer CEO
Oren Kaniel spoke to Calcalist following AppsFlyer's Tuesday announcement that it had completed a $210 million funding round at a company valuation of $1.6 billion
Meir Orbach
|
16:21 23.01.2020
In the time that has passed since its previous funding round, Israeli marketing analytics company AppsFlyer Ltd.'s revenues increased five-fold, according to Oren Kaniel, the company's CEO and co-founder. Kaniel spoke with Calcalist on Tuesday following Appsfyer's announcement that it had completed a $210 million funding round at a company valuation of $1.6 billion. Calcalist first reported that AppsFlyer was in the process of raising the round in
October
. The past three years had felt like dog years, Kaniel said. "In 2019, we recruited 420 employees. In terms of revenues, we made in one year what we previously made in seven."
"Our belief is that revenues are secondary; we have to be forward-thinking and work to realize our long-term vision. We could see smaller growth one year, but we want to give our marketing team all the tools they need to help them win. If I ask a client who is their favorite service-provider, I want to be number one," Kaniel said.
Kaniel said that Appsflyer still has several years before it will attempt an initial public offering. "We could receive an offer of an astronomical amount of money that we would not be able to resist, but at the end of the day, I want to go all the way to the end," Kaniel said. "If I was planning to sell the company next year, I would not have needed so many employees, and I would not need to invest in them. When a company is exit-oriented, it begins to decline, and we don't want to go there, we enjoy the journey."