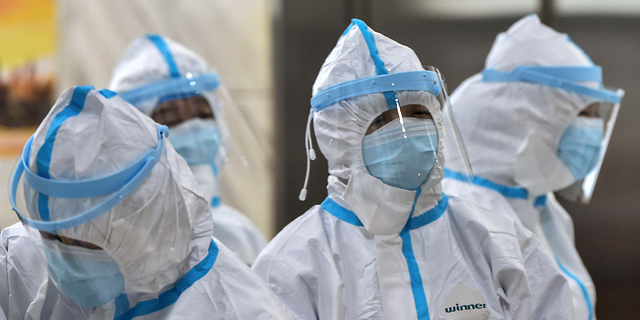 Coronavirus
Coronavirus Shockwaves Already Felt in Israel
All Israelis returning from China will be subject to a two-week quarantine at home, under the Israeli Health Ministry's supervision
Adrian Filut and Tzally Greenberg
|
11:44 03.02.2020
Israelis returning from China will be quarantined for a two-week period. Israeli Prime Minister Benjamin Netanyahu has agreed to a demand made by the Israeli Ministry of Health to reimburse Israelis who will be forced into a 14-day quarantine if suspected of contracting coronavirus, according to one person familiar with the matter who spoke to Calcalist on condition of anonymity. Netanyahu agreed in principle to the measure in a meeting with health ministry officials Sunday, the person said.
More News:
Israel Reports 945 Covid-19 Cases, First Coronavirus Death >>
Israeli Startups Report Steep Decline in Early Stage Investments in March >>
An Israeli Hospital Set Up a Covid-19 Emergency Care Ward in 72 Hours >>
The Israeli health ministry has taken several steps to limit the spread of the virus, should it cross Israeli borders. All flight routes between Israel and China have been shut down, and the entrance of Chinese citizens to Israel has been temporarily forbidden. Israeli citizens who return from China are required to remain inside their homes for the duration of the quarantine and could face criminal charges if they fail to comply. According to the person familiar with the matter, the ministry intends to appoint supervisors to make sure those secluded will not leave their homes.