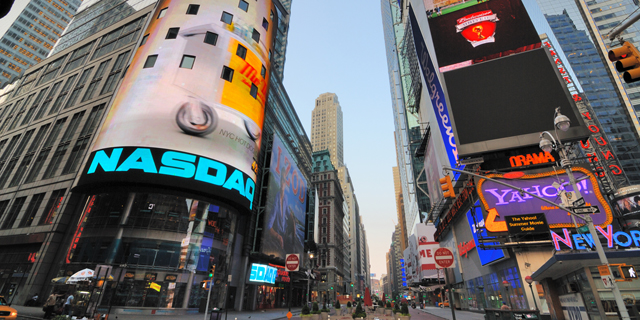 Analysis
How Will Israel Fare When the Nasdaq Jet Finally Runs out of Fuel
Wall Street just had its strongest decade of gains. Should it crash, would the tech-dependent Israeli economy survive unscathed?
Sophie Shulman
|
18:41 05.02.2020
The Nasdaq Composite jumped approximately sevenfold between the low of 1,284 points recorded in March 2009, at the height of the financial crisis, and the then-record high it reached in the final trading days of 2019, when it passed the 9,000 points mark. All analyses show that the last decade was the longest period of gains in Wall Street's history. The tech industry has also risen to unprecedented heights over the past decade, boosted by Nasdaq and fuelled by global minuscule interest rates. Unimaginable amounts of money have been poured into the sector, and the FAANG heavyweights—Facebook, Apple, Amazon, Netflix, and Google—replaced oil and gas companies and automakers on the indices.
recent review
published by the ministry's chief economist Shira Greenberg, she referred to the cyclical nature of private investments in tech. Private funding for innovation in Israel—just like in the U.S.—tends to rise sharply during peak periods and fall sharply during recessions, she said, calling it a market flaw that tends to lead to a closure of startup companies during crises due to temporary financing problems. Greenberg's review highlights the main failing of investments in tech compared to investments in industry: the lack of tangible assets that could help ground foreign companies in Israel. The ministry also stressed that beyond the presence of multinationals, a significant share of local venture capital funding comes from non-Israeli investors. In 2018, for example, U.S. venture capital investors accounted for 35% of all investors in Israeli tech, while in 2019, that percentage was even higher due to a large number of mega-rounds led by non-Israeli funds. There is an almost direct correlation between the growth of Nasdaq and the scope of investments in Israel, the review stated. An additional aspect that should be considered is the impact of the tech sector on the shekel-dollar exchange rate, on which the Bank of Israel is waging a losing battle. Some attribute the bank's inability to manage the strength of Israel's currency to speculants that move its valuation every which way, but there is another significant contribution—the dollars infused into Israeli economy on a regular basis, by and into the tech sector. The fact is, if one compares the Nasdaq Composite to the shekel-dollar exchange rate, the pattern of change is nearly identical. Besides exits, venture capital investments
play a large part
: such investments in Israel amounted to $8.3 billion in 2019, up from $6.4 billion in 2018 and $5.3 billion in 2017, overall $39 billion in the last decade. The more mega-startups, the more capital venture funding. The strong local multinational activity is also one of the main engines converting large amounts of dollars into shekels. Many of the tech M&As lead to the buyers' establishing an Israeli research and development center, resulting in around 400 local R&D centers belonging to multinationals today. Amazon, Facebook, Google, Microsoft, and Intel all have local centers, with Intel being the largest private employer with 13,700 people, but there are hundreds of smaller companies, too. Out of the 300,000 plus tech employees in Israel, between 60,000 and 80,000 are employed by multinationals—depending on whether one counts only research and development personnel or the sales and marketing teams as well. According to a CBS report from November, multinational R&D centers
contribute high above the rest
of the market—in 2017, they paid on average around NIS 499,000 (approximately $144,000 at the time) a year per employee, compared to Israeli startups, which paid NIS 336,000 on average (approximately $97,000 at the time). Half of those employed by multinationals work in R&D, meaning those multinational centers today contribute around half of the total R&D expenditure in Israel's private sector. $3 billion—that is the sum multinationals and startups pay each month as wages for their Israeli R&D employees, rent, and the leasing fees for the cars these employees drive. Annually, that is around $40 billion, based on the number of employees and their wages as reported by the CBS, the average real estate leasing prices at areas preferred by tech companies, and additional expenses such as flights and paid lunches. That is a significant sum even compared to the heaps of dollars the Bank of Israel is hoarding, which stood at $124 billion at the end of November 2019, double the amount it held at the beginning of the decade. Those reserves are, by now, around a third of Israel's gross domestic product (GDP). The Bank of Israel has invested immense sums in efforts to stabilize the shekel and prevent further damage to non-tech Israeli exporters, but this battle is far from even. Aharon Aharon, the CEO of government investment arm the Israel Innovation Authority, was one of the first to point out the problems caused by the country's R&D bubble. In an
interview with Calcalist
in late 2018, he said multinationals snatch talent that could have otherwise become the next generation of local startup founders. "If you're asking me whether we should be happy to if another giant like Microsoft, Apple, and Amazon decides to open a local operation, the answer is no," he said at the time. As long as Israel acts as a drawing stone for multinationals, it should be leveraged appropriately—mainly through taxation. Today, multinationals contribute around 18% of the country's total income from direct tax.
A recent report
compiled by Tel Aviv-based research firm IVC Research Center Ltd., Israel-based GKH Law Offices, and umbrella organization Israel Advanced Technology Industries (IATI) found that overall, multinationals paid around $8.85 billion in employment taxes to the Israeli government in 2019. Despite the fact that multinationals pay a minuscule corporate tax rate of 2%-3%, they are already paying an unusually high percentage of Israeli taxes overall, further highlighting the country's dependency on its tech sector. According to Pitango Venture Capital managing partner Ayal Itzkovitz, a Nasdaq crisis could provide Israeli companies with an opportunity to counterbalance the expected impact a potential reduction in multinational presence will have. "After almost a decade with no new big Israeli companies, in recent years, a new generation has been established of solid companies that will continue to grow quickly and hire Israeli engineers," he said. "Companies like Wix.com, Via Transportation Inc., Appsflyer Ltd., Taboola, and Outbrain—together they hire thousands of people a year, and in light of the difficulty in recruiting Israeli employees, they set up centers in East Europe and Asia. If multinationals limit their exposure to Israel, weakening the shekel as a result, these companies will be happy to return and boost their Israeli presence at the expense of their other centers."