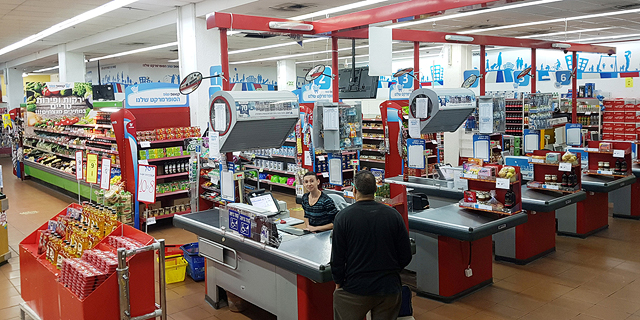 List
Your Grocery Run, Reimagined
From no-checkout supermarkets to groceries delivered by drones, below are seven Israel-linked startups making the way we buy our everyday goods just a little easier
Adi Pick
|
16:37 05.03.2020
Imagine making a quick hop to the neighborhood supermarket and not having to wait in line, or seeing the price of a certain product decrease before your eyes to account for short expiration period. Even better, imagine putting all of your eggs into one basket, and having it delivered to your house by a drone. Below are seven Israel-linked startups making the way we buy our everyday goods a little easier. Trigo
Founded: 2017
Based in: Tel Aviv
Funding: $34 million
Shopping automation startup Trigo Vision Ltd. uses in-store ceiling-mounted cameras to identify items picked up by customers, automatically charging people as they leave the store to create a no-checkout shopping experience. In October 2019, Trigo announced that London-listed British supermarket chain Tesco PLC will integrate Trigo's technology into its app, so customers will be able to purchase products without having to use the check-out counter, as their payment will be processed automatically. In November 2018, the company announced Tel Aviv-listed Shufersal Ltd., Israel's biggest supermarket chain, would be implementing its technology in 272 stores over the next five years.
Wasteless
Founded: 2016
Based in: Tel Aviv and Amsterdam
Funding: $2.55 million
Wasteless Ltd. offers consumers differentiated pricing for food products according to their expiration date. The company's pricing algorithm makes use of electronic shelf labels to monitor inventory and sales and adjusts a product's price accordingly.
WiseShelf
Founded: 2016
Based in: Caesarea
Funding: $240,000
WiseShelf Ltd. develops technology that integrates light sensors and cameras that continually monitor what is happening on the shelf, providing retailers with information in real-time concerning the organization and the availability of certain products. In January, the company announced Israel-based drugstore chain Super-Pharm has implemented shelf organization technologies developed by the company
in 14 of its stores
.
Trax
Founded: 2010
Based in: Singapore
Funding: $350 million
Trax Image Recognition, incorporated as Trax Technology Solutions Pte. Ltd., offers retailers image recognition, big data, and computer vision analytics tools to keep track of their stock and inventory. By using a system of sensors placed throughout a store, Trax can collect and digitize data in real-time. The company is working on an AR-based store navigation tool and a special-offer locator,
CEO Yoel Bar-El said
at a Calcalist conference in September. The company was founded by Israeli entrepreneurs Bar-El and Dror Feldheim and is headquartered in Singapore with offices in Israel, Asia-Pacific, Europe, and the Americas. Flytrex
Year founded: 2013
Based in: Tel Aviv
Funding to date: $10.5 million
begin food deliveries by drone
in the town of Holly Springs, North Carolina, and intends to expand its services to deliver groceries.
PriceZ
Founded: 2011
Based in: Yokne'am Illit
Funding: undisclosed
PriceZ develops an online service and app that enable users to compare product prices in supermarkets. Customers can pick out the exact grocery items they wish to purchase, and PriceZ compares the prices offered by different local supermarkets. IntraPosition
Founded: 2015
Based in: Binyamina-Giv'at Ada, a town in northern Israel
Funding: $1.5 million
IntraPosition Ltd. offers in-store geolocation services for grocery stores that include line management tools, insights on shopping routes and customer activity within the store, personalized messaging, and a management tool for workers preparing online orders. The service is based on a device installed on shopping carts and baskets and a dedicated mobile app. The company's technology provides accurate navigation to a distance of up to about 30 centimeters from the desired product, according to company statements.