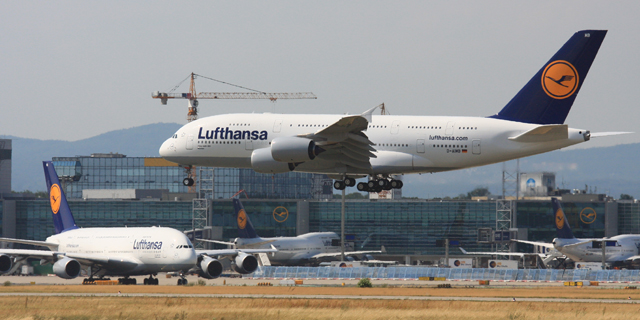 Coronavirus
Amid Coronavirus Quarantines, Lufthansa Group Halts All Flights to Israel
All Lufthansa flights, including flights operated by its subsidiaries Swiss Airlines and Austrian Airlines, will be canceled from Sunday, March 8 until March 28
Adi Pick
|
17:21 05.03.2020
German flagship airline Lufthansa will not be flying to Israel for a period of three weeks, including flights operated by its subsidiaries Swiss Airlines and Austrian Airlines, due to Israel's restrictions on passengers returning from France, Germany, Spain, Austria, and Switzerland. The flights will be canceled from Sunday, March 8 until March 28.
SWISS to suspend Tel Aviv services until 28 March. The action is being taken in view of a new requirement by the Israeli health authorities. The last SWISS flight to/from Tel Aviv – LX252/3 – will operate on 7 March. More information: https://t.co/yuZCd0f06b pic.twitter.com/RlAeRnZgeF

— Swiss Intl Air Lines (@FlySWISS) March 5, 2020
In an effort to stem the spread of coronavirus (Covid-19) in Israel, the country has forbidden the citizens of China, Macau, Hong Kong, Singapore, Thailand, South Korea, Japan, and Italy from entering the country. All Israelis returning from these countries must enter a two-week at-home quarantine. On Wednesday afternoon, Prime Minister Benjamin Netanyahu and health minister Yaakov Litzman convened a joint press conference and extended the restrictions to France, Germany, Spain, Switzerland, and Austria. Litzman also announced restrictions on gatherings of over 5,000 people.
Swiss Airlines said in a statement
. The airline has reduced its overall number of flights by around 20% on the short-haul network and by around 10% on the long-haul network, according to its statement.