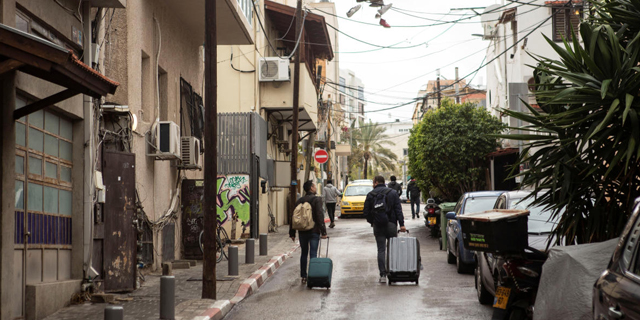 Coronavirus
The Coronavirus Has Put Airbnb Apartments Back on the Rental Market
In light of cancellations and the absence of new bookings on short term rental sites including Airbnb, many homeowners have turned to renting out their properties for longer periods
Shlomit Tsur
|
15:18 10.03.2020
With 51 cases of coronavirus (Covid-19) now confirmed in Israel and the country's recent decision to effectively shut down its borders, the local tourism industry—and more specifically its booming short-term apartments business—has suffered a massive blow. On Monday evening, Prime Minister Benjamin Netanyahu announced his decision to require all residents returning to Israel from any country in the world, to
enter a 14-day quarantine
. Non-residents will be required to provide proof they are able to meet the quarantine requirement in order to be granted access. Tourists already in the country have been given until Thursday night to quarantine themselves.
or 3.4% of all city apartments
, are rented regularly for short term visitors through Airbnb. According to data provided by the city, one in three apartments in Kerem HaTeimanim, a historic central Tel Aviv neighborhood, are now used for short-term rentals. "I was contacted this week by the owners of two Tel Aviv apartments that have been leased through Airbnb in recent years, making a substantial profit, to help them find tenants for a period of a year or more," Amiram Ben Ezra, owner of real estate agency My Place, said in an interview with Calcalist. "In both cases, the apartment owners explained that their last booking ends in the next few days and they do not have any more bookings lined up. Therefore, they prefer to rent the apartments as a regular, long-term rental, independent of tourists." Long-term rentals provide lower returns than short-term rentals, but the alternative of leaving homes vacant for an unknown period of time is affecting apartment owners and releasing residential apartments back into the regular rental market. One of the apartments, for example, is a 2.5-bedroom located on a high floor in one of the most prestigious towers on Rothschild boulevard, Ben Ezra explained. Renting it for short periods would bring in an average of NIS 12,000 (approximately $3,400) per month in net income, he said. but as a long term rental, the price will be NIS 8,000 (approximately $2,270) per month. It appears that more and more Airbnb apartments will return to the long-term market, as long as the number of tourist arrivals continues to dwindle, he said. In some cases, it appears that homeowners who have grown accustomed to a high annual return from short-term rentals are not interested in the low-yielding long-term rental, preferring to put the apartments up for sale. According to Jonathan Passentin, owner of Jerusalem-based real estate company For Sale Real Estate Investments, a foreign citizen who owns a luxury apartment that was rented for short periods reached out to him this week wanting to sell the condo. "The apartment is on Alfasi Street in the Rehavia neighborhood and was leased to foreign diplomats and tourists arriving for short periods," Passentin said. Due to the coronavirus crisis, the owner realized they would make more money renting it long term than waiting for bookings to renew, he added.