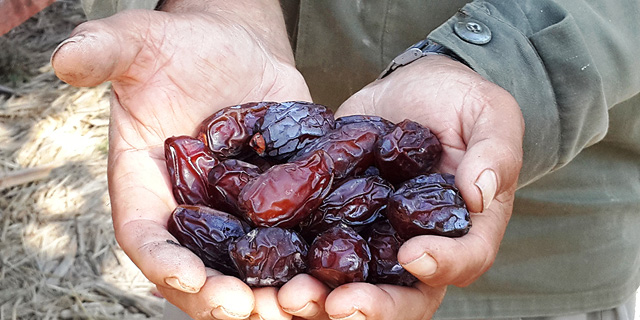 Black Gold: How One Variety of Dates Took Over a Billion Shekels Industry
The Medjool date is the biggest, sweetest, most visually appealing variety of the fruit, and its rising popularity means more and more Israeli growers are uprooting more traditional, subtler types of palms to make room for the new king of the industry
Ari Libsker
|
10:41 13.03.2020
You can view the Medjool date as a symbol of our age. It is the biggest, sweetest, most visually appealing variety of date. It is a bit much and can be considered outlandish, both in size and taste, but that is what we like nowadays. In the age of huge exaggerations, we push aside any signs of subtlety. Perhaps this explains how the Medjool managed to sideline all other date varieties and now accounts for 85% of the date production in Israel, the world's biggest dates exporter.
Known as the startup nation, a cybersecurity powerhouse, and a weapons export empire, Israel is now also a Medjool giant. The country exports some 42 tonnes of Medjool dates a year, far above the U.S. and Jordan, which export 15,000 tonnes and 10,000 tonnes annually, respectively.
Overall, Medjool sales bring in around NIS 1 billion (approximately $284 million) in annual revenues to the Israeli economy. Half of that comes from export: in Israel's agricultural sector, the Medjool's export proceeds are second only to citrus fruit export, which brings in about NIS 600 million (approximately $170 million) a year.
From Israel's north, through occupied territories in the West Bank, to the country's southernmost town of Eilat, Israeli farmers tend to nearly 850,000 palm trees, acting as a bridge between the old world and a new market led by an insatiable hunger for "healthy," vegan food.
The story of the Medjool date is, in many ways, the story of Israel: the struggle to strike root, the attempts to shape history, and the fight to survive in a hostile environment under challenging weather conditions. Mix all this with a desire to connect with the world and align with changing trends and fashions, while at the same time building a sustainable enterprise and keeping it afloat financially.
Israel's date industry started out small, in Kvutzat Kinneret, a kibbutz on the shores of the Sea of Galilee. When the kibbutz was established in 1913, the first settlers were shocked to realize that the land so associated with dates and palm trees had very few such trees. At the time, the industry was mostly based in North Africa—Egypt, Tunisia, and Algeria—as well as in Iraq and Persia, now known as Iran.
One of the founding fathers of the Israeli date industry was Ben-Zion Israeli, one of Kinneret's founders, who thought local palm groves were the essence of Zionism. That is why, long before Israel was founded, Israeli traveled under a pseudonym to Persia, Iraq, Egypt, and Algeria, and was able to smuggle tens of thousands of palm shoots to the shores of Kinneret.
At Kinneret's grove, among the various strains of palm trees brought by Israeli—Khadrawy, Zahidi, Halawy, and Hyani—I met his great-grandson, Avner Golan. A fourth-generation palm tree grower, 42-year-old Golan heads Kinneret's palm tree business. With him is Maor Yarkoni, who heads the kibbutz's agriculture business. These trees around us, Golan and Yarkoni tell me, are a dying breed. Medjool has taken over.
"Medjool is so popular because it is the biggest date and people buy with their eyes," Golan explained. "It is very sweet, too sweet for some, and anyone who knows anything about dates prefers the Noor dates, which are more subtle," he said. Once upon a time, when Noor was the most popular variety, Kinneret's groves thrived.
Medjools grown in Israel's northern district are bigger and juicier than those grown in its south, but also more sensitive. The heat levels are the same, but the north's air has higher moisture levels, Golan said. "Our Medjool is juicy, its skin is slicker, and its texture soft and meaty," he said. According to him, however, the northern Medjool is difficult to export because it must be kept frozen from the moment of picking, while the southern Medjool can be kept at room temperature. That is why Kinneret only sells its Medjool produce locally, mostly at the kibbutz's factory shop, Golan said.
"The whole industry started here and moved south, but Medjool is killing all other varieties and wiping out our groves," Golan said. According to him, palm trees are being uprooted throughout the northern district, and if at one time every kibbutz in the region had 500 dunams (500,000 square kilometers) of palm groves, now most of them have none. The only reason Kinneret kept its 500 dunams—130 of which are occupied by Medjool palm trees—is because it also has a factory producing date honey, vacuum-preserved dates, and other products made from different varieties of the fruit, Golan said. The kibbutz also sells its unique types for a hefty price at its factory shop, as nobody else in the country grows them anymore, he added. Some of the varieties that Kinneret has been forced to cut prune—for example, Hyani—are rare and not likely to be found elsewhere in the country, Golan said. "We do not have a choice, because we are not turning a profit on them," he explained. Over the past three decades, Israel's annual production of dates multiplied by 35, from 1,200 tonnes in the 1990s to the current 42,000 tonnes. Nearly 50% of the global production of dates is Israeli, as are 30% of all Medjool trees. This massive growth is most evident in the Jordan Rift Valley—which includes areas in both Israel and the West Bank—and the Aravah areas in the country's south. In the north, however, the situation is dire. In the vicinity of the town of Beit She'an, at the logistical center of Israel Date Growers' Cooperative Ltd., also known as Hadiklaim—a cooperative responsible for 50% of dates distributed in Israel—I met with Shai Stern, 54, who heads the growers' department. According to him, Israel's Arab minority, which makes up about 20% of the country's population, is part of the reason northern growers manage to keep afloat. The Arab community, it appears, has yet to be swept by the obsession for big and juicy fruit and continues to consume varieties of dates, other than Medjool. As we travel to Tirat Zvi, a nearby religious kibbutz, we are surrounded by groves of Deri palm trees, grown not for their fruit but for the lulav, a closed frond of the date palm tree used for worship during the Jewish holiday of Sukkot. Demand for lulavs also helps the area's growers in their struggle to survive. Other strains of dates—like Khadrawy and Zahidi, which are less suited for growing lulavs—have almost completely disappeared from the local landscape.
Tirat Zvi has 20,000 palm trees and according to Avner Rotem, who heads the kibbutz's date business, attempts to sell dates other than Medjool have been proven a lost cause. "Medjool is alright, but it is not really a date; in sweetness and texture, it is more like a different fruit," Rotem said. The kibbutz still sells other varieties of dates but the difficulty involved means it finds itself giving up on them one by one, he said. "We don't do it all at once because we want to see how the trend develops. Things change all the time; Hyani, a moist date, for example, used to be very popular."
As if fleeting fashions were not enough, northern date growers also face another fierce enemy: Rhynchophorus ferrugineus, also known as the red palm weevil. This tiny beetle does not strike trees further south, but in Israel's north, it can wipe out massive groves if not identified in time. Fortunately, unlike with the Phoenix canariensis, a type of palm tree used for ornamental purposes, which the beetle can kill in under a month, with these varieties of palms it takes a long time and the trees can be saved, Rotem explained. But, this is a Sisyphean task. "You have to constantly monitor and search for infected trees, then drill a hole through them and spray with pesticide," he said. Another struggle for growers is lack of manpower. According to Stern, Israeli workers are unwilling to work in the groves due to the high heat levels and poor working conditions. The industry relies on cheap labor provided by about 1,000 foreign workers from Thailand and growers are constantly demanding the government grants more permits for agricultural workers. Stern says he does not care where these workers come from—they can be from Jordan or even Gaza—as long as they come. The workers at Hadiklaim's packing facility in Beit Shean are Arab women from nearby villages. The facility, which relies solely on manual labor, packs between 800 tonnes and 850 tonnes of dates a year in packages of under 1 kilogram, the manager, 35-year old Nirel Moshe, said. During the busy times of the year—around Christmas and New Year' s—the facility employs about 50 people while, at other times, 10 workers are enough, Moshe said. As he shows me around the facility, Moshe points to the workers that are carefully pitting dates with sharp knives. "As soon as you pit the date, its shelf life is shortened," he said, adding that customers today seem to find it too difficult to eat fruit and take out the pit for themselves. This packing facility also helps the Israeli date industry face another of its many challenges. The facility, located within Israel's internationally recognized borders, packs fruit from the area as well as from groves in Jewish settlements in the Jordan Rift Valley, located in the West Bank. This way, the package can legally state the dates are from Israel, bypassing growing calls for boycotting Israeli products manufactured in the West Bank. "We offer a solution to all the U.K. retailers that are committed to boycotting products from the Jewish settlements because the facility is not on occupied land," Moshe said. Medjool dates originated from Morocco and were exclusive to the country for years, as the export of shoots was strictly forbidden. But, in 1927, a soil-borne disease threatened Morocco's Medjool palm groves, which spanned tens of thousands of square km. Scientists from all over the world were brought in by Morocco's French occupiers to help fend off the disease and save the industry. One of these scientists managed to gain permission to take seven shoots back to the U.S. with him in order to preserve the Medjool should the disease wipe it out entirely in Morocco. When, after seven years of quarantine in Nevada, there was no sign of the disease, the trees were transferred to California, and the Medjool was reborn on the other side of the world. The first Medjools arrived in Israel in the 1960s, but the variety only became popular 30 years later, when multiple shoots reached Yotveta and Yahel, two kibbutzim in the Aravah region and local growers finally cracked the secret for truly extraordinary Medjools. It took some time to figure out how to achieve a really juicy fruit, according to Amnon Greenberg, head of the dates division at Israel's Plants Production and Marketing Board. "At first, it was dry, but around 1994 we realized the Americans were just picking them a month ahead of time, and that is why they were very moist," he said. Now, date picking is performed gradually, so every individual fruit is at its best. "This, of course, doubles the expenses, because you have to climb the tree to pick fruit three or four times in one season," Greenberg explained. The thriving of the Medjool date in Israel may have started in the Aravah region, but today, 46% of Israeli Medjool trees—more than 300,000 units—are grown in the Jordan Rift Valley. Medjool is the primary agricultural crop of the area, though a few Noor palms can still be seen. Ziv Liba, 35, of the Jewish West Bank settlement Petza'el, takes me in his pickup truck to a closed military zone, surrounded by mines and fences. In the 1980s, farmers from nearby settlements got hold of the territory and were allowed to use it to grow produce. As we enter the area, thousands of birds take flight and jackals retreat. Liba tells of a wild herd of gazelles that lives there. We cross Wadi al-Far' a and reach an abandoned military bunker housing thousands of fruit bats. In short, it is an area of wild nature, hidden behind fences and mines. The palm groves were flooded from recent heavy rains and Liba said he needs to wait several weeks for the water to flow down to the Jordan river before the trees can be reached. According to Liba, the biggest challenge for date growers is financial, as big distributors such as Hadiklaim take a significant share of the revenue. "In Europe, our dates go for between 15 euros and 20 euros (approximately $17-$22) per 1 kg, and I only see NIS 15 (approximately $4) of that," he said. Liba said he wants to unionize the growers. "What we need to realize is that we have a unique product that can only be grown here because the weather is hot, but we still have a lot of water," he said. The work itself, however, is easier than in other agricultural industries, Liba admitted. "I saw my father hard at work his whole life for very long hours each day growing vegetables and flowers, but it is not like that with palms," he said, "they do not require daily attention." Liba is not allowed to employ Palestinians because his plot is in a military zone, but other growers from the area can. This practice brings down costs significantly, as Israeli labor laws do not apply to Palestinians in the West Bank. Dror Sinai, 50, from the settlement Vered Yeriho, employs local Palestinians. Sinai grows dates in a plot where his father-in-law used to grow artichokes. Sinai himself did not come from a line of farmers, and when he felt the urge to work the land in 2007, a friend suggested he grow dates. Sinai currently works 350 dunams of date groves, more than five times the average individual farmer. Anticipating more competition in the future, Sinai leases land from others to become a major player. "Prices will go down, and small growers will not survive, because the equipment required for growing dates is very expensive," he said. On the Ein Tamar hill, located in the Aravah, south of the Dead Sea, I met Dudu Kadosh, 64. The view of the palm groves and the sea is hampered by the smoke coming out of the nearby potassium factories. There are days when the emissions are so bad it is hard to breathe, Kadosh said.
According to Kadosh, who was among the founders of Ein Tamar, dates saved the moshav from financial ruin. "We used to grow melons, and the only way to do that around here is by using methyl bromide to kill weeds," he said. In 2005, when developed countries, Israel among them, banned methyl bromide due to its environmental damages, Kadosh searched for alternatives and opted for dates. A lot of farmers around these parts turned to dates—exclusively Medjools—and this later spread further south after a crisis in the bell pepper business, he said.
Until 2014, bell peppers were the primary produce of the central Aravah area, but then the market was flooded, and the entire industry crumbled down, forcing many into bankruptcy. At the time, Guy Solomon, 35, from moshav Hatzeva, was saved because, in addition to bell peppers, he also grew dates. Solomon tends not only to his groves but also works as an independent contractor for other farmers, such as Oren Korin, 35, also from Hatzeva. Over the past decade, the Aravah area gained 120 new date growers, bringing their total number to 250. Korin said he is afraid the industry is headed the way of the bell pepper segment. Growers compete against one another instead of uniting and focusing on distribution, where the big money is, Korin said. Growing dates will not make you a millionaire, but it makes a good living, Solomon said, though those who planted palms in 2014 will only see actual profit in 2024. Some years, like last year, are catastrophes, but this year is exceptional, with better fruit and better prices, he added. Kibbutz Samar specializes in organic dates and relies solely on kibbutz members and volunteers for manual labor. The volunteers get room and board, as well as a nominal fee. I met the team of workers and volunteers at 10 a.m. during their communal meal. The palm grove is the beating heart of Samar, bringing in about 50% of the kibbutz's income, according to Shelly Zabran, 45, who is the head of Samar's dates business. During date harvest season, some kibbutz members shut down their businesses to lend a hand and volunteers come from Israel and abroad, sometimes for the entire season and sometimes just for a weekend on their way to a vacation in Sinai. Last fall, 130 people were employed in the harvest. When you have paid workers you just bring them in in the morning, tell them what to do, and pay and send them on their way at the end of the day, but with volunteers you have to be nice, Zabran said. "They come because they enjoy it." One of these volunteers is 30-year-old Ziv Dayan of nearby city Be'er Sheva, who has been in Samar for the past three months. Dayan says he is currently "in between things" and volunteering here lets him relax and plan his future without having to worry about money. "I do not have any expenses here, and it is very convenient to just lay my wallet down and forget about it for a while," he said.