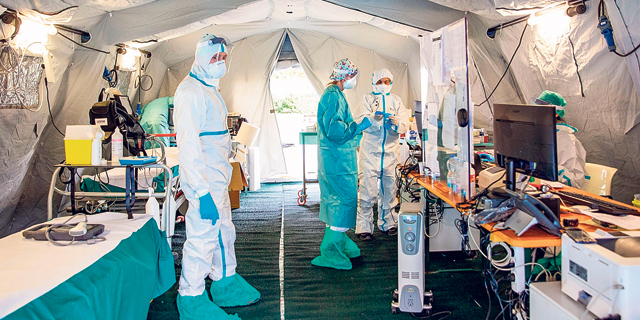 List
The Israeli Inventions That Lessen The Healthcare System's Burden
Israeli innovation has been enlisted in the battle against Covid-19. Here are six technological inventions helping health personnel in their fight against the pandemic
Hagar Ravet
|
10:26 23.03.2020
The coronavirus (Covid-19) pandemic has shed an unflattering light on the faults of the global healthcare systems, from China to Italy, and posed a myriad of new challenges to both healthcare professionals and researchers. Governments, including that of Israel, have called on tech companies to enlist in the battle against the outbreak. In reality, many medtech and biotech companies have already started working to alter their technologies accordingly. In Israel, both industry veterans and young startups have jumped into the fray, allocating resources and manpower in an effort to find new solutions that could ease the strain on the overburdened healthcare system. Calcalist has taken a closer look at some of the most prominent ones.
Around two months ago, use of RADLogics' products in China started revealing novel findings; something small and patch-like in the lungs of patients. Very quickly, medical professionals identified the patch as a phenomenon unique to coronavirus patients. More surprising was the fact that it was also found in asymptomatic carriers. The findings echoed a study published in China, which looked at around 1,000 patients and found that CT scans indicated the presence of the virus in 48% of people who were found negative in the regular test.
Identify the most vulnerable: the study that looked into what makes some people more resistant to the virus
Tel Aviv-based Geneyx Genomex Ltd. developed a cloud-based genetic data bank that is used by universities and research institutes to identify genetic risk or resistance factors for various medical conditions. The company is now conducting a study that will compare severe and mild coronavirus cases to find out whether certain genetic mutations increase or decrease response to the virus. Currently, hospitals in Israel, China, and Italy have signed on as participants in the study, and Geneyx intends to partner with other hospitals that are currently treating coronavirus cases, providing them with a collaborative data management system. After enough samples have been gathered, cases will be categorized—for example, according to the severity of symptoms—and the DNA sequencing process will start. The company also intends to create a database that will map sensitivity to the virus, to give caregivers a predictive advantage.