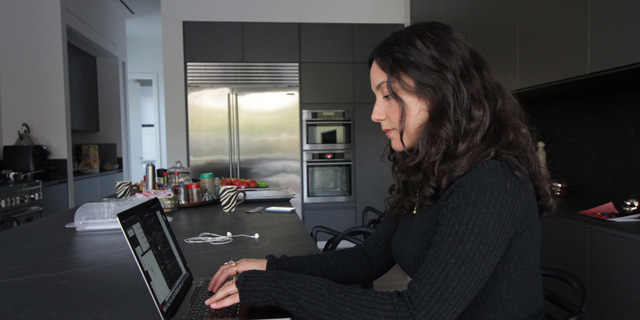 Coronavirus
Starting a New Job From Home Quarantine
As the Covid-19 pandemic continues to spread, forcing nonessential workers to remain home, tech companies in Israel find themselves having to onboard new employees from their living rooms
Maayan Manela
|
14:57 29.03.2020
When, two weeks ago, Daniel Yagoda started a new job as a medical data analyst at stroke detection startup Viz.ai Inc., she stayed home. Like many people around the world, she was in quarantine at the time, as the coronavirus (Covid-19) pandemic began to spread in Israel. Yagoda's new boss came to her house in person, adhering to the regulations at the time and maintaining a safe distance, to deliver her welcome package, which included a laptop and additional perks, Yagoda told Calcalist in a recent interview. Her first days on the job were spent alone, reading background materials, and on meetings, conducted through video communication apps. "So far, I have only met my team on ZOOM meetings," Yagoda said. "At first, I was concerned as it seems less personal than meeting face to face, but everyone was very supportive and helpful," she added.
unemployed
—are currently working from home. Like Viz.ai, some companies are not letting the crisis hold back their recruitment efforts and are continuing to conduct video interviews for candidates and welcoming new employees that have already been hired, using various remote means. Starting a new job is always stressful and filled with a need to prove oneself in a new social and professional framework. When quarantine or social distancing are added to the picture, the challenge becomes even greater.
Starting a new position from home quarantine is quite a challenge, Adi Levy, an operations lead at Viz.ai told Calcalist. The company has a very distinct social and professional atmosphere that Yagoda is unable to experience, she added. "We are doing our best to help her become a part of the company and we are certain she will be able to join us physically in a little while."
When Elad Notti interviewed for a senior software developer position at Tel Aviv-based startup Syte-Visual Conception Ltd., he had no idea he would end up working from home. At the time, the virus has yet to reach Israel, but a week before he was due to start at Syte, his old workplace sent everyone home to work remotely, Notti told Calcalist. "I called Syte to see what was going on because I saw that friends who were supposed to start new jobs did not start according to schedule," he said. Syte assured him, however, that the company was fully prepared for remote work.
including
a paid lunch card sent to employees' doorsteps," she told Calcalist. Remote onboarding required adapting the company's systems to not only allow for transmitting information but also to measure the new employee's level of involvement and the time they spent on each task and each step, Avi Snir, founder and CEO of Tel Aviv-based corporate training company Elevation Education Ltd., told Calcalist. The coronavirus crisis affects not just startups but also large multinationals, like Nasdaq-listed software company Autodesk Inc., which changed its recruitment and onboarding processes to meet the Israeli regulations. Relevant software is installed remotely and a team member closely accompanies new employees on their first days, serving as the company's familiar face during orientation, Meirav Fuks, who heads human resources for Autodesk Israel, told Calcalist. Roy Goldschmidt started working for Autodesk as a product manager last week from his living room. "I was very happy for the support I got from the whole team, with video conferences lasting until the wee hours of the night," he told Calcalist. "I hope one day we could all meet in real life at the office," he said. Tomer Stolero, who started working as a full-stack developer at Tel Aviv-based payment fraud prevention company Forter Inc. last week, said the care package he got from the company while in quarantine helped him know he made the right choice by joining the company. "The team leader made sure I got all the equipment I needed for remote work delivered to me at home and a welcome toast was held via video conference with my new team," he told Calcalist.