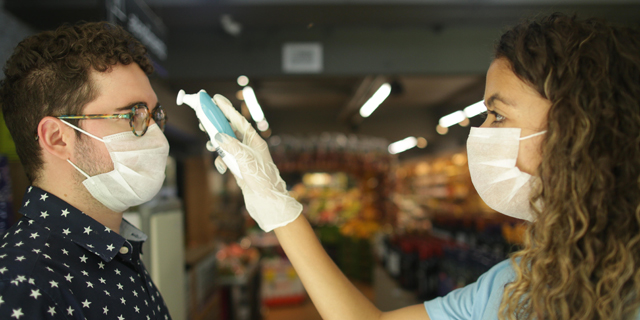 CTech's Tuesday Roundup of Israeli Tech News
Via raises $400 million at a company valuation of $2.25 billion; In Israel, soldiers to patrol the streets in effort to enforce Covid-19 regulations
Via raises $400 million at a company valuation of $2.25 billion. Via operates transportation services in more than 90 locations worldwide, offering various modes of operation in different places.
Read more
In Israel, soldiers to patrol the streets in effort to enforce Covid-19 regulations. Confirmed cases of coronavirus in Israel reached 4,831 on Tuesday morning; gatherings in a public sphere no longer allowed. Read more
Israel's tech dream team is closing in on coronavirus breakthroughs. Daniel Gold, head of the country's national emergency team, thinks his cross-industry team of experts can rise to the challenge of Co. Read more
Analysis | Coronavirus threatens shared e-scooter companies. Self-quarantine and lockdowns have reduced use of shared e-scooters. Bird let hundreds of employees go while Lime is looking to raise funding at a valuation of only $400 million. Will e-scooters vanish from our streets as quickly as they arrived?
Read more
Analysis | For the corona-besieged tech industry, cash is king. With private money drying up, wage reductions, and layoffs, Isaeli startups are suddenly on the defensive. People in the industry are talking about possible mergers and acquisitions, and the local unicorns are waiting on the sidelines for prices to go down. Read more
Amid coronavirus scare, Israel's kibbutzim close their gates. Israel's cooperative agriculture communities are barring entry by non-residents in an attempt to keep out Covid-19. Read more
Due to pandemic, Bringg offers shipping management software to small businesses for free. Bringg develops an Uber-like management software for third-party delivery suppliers and counts Coca-Cola, McDonald's, and Walmart among its clients. Read more
List | From team management to company app development: 6 startups that make working from home easier. As living rooms across the world become makeshift offices, these Israeli startups can give your remote work processes the boost they need. Read more
Israel greenlights coronavirus blocking sticker pilot. The 3D-printed sticker, developed at Israeli research university Technion, is made up of nanometric fibers coated with disinfectants and is meant to enhance the containment of nanoparticles and effectively neutralizes viruses as they touch the mask. Read more
Ebay appoints Ishai Froind to lead Israeli operation. Froind is set to succeed Israel General Manager Moti Eliav, who served in the role since 2018. Read more
Augmented reality startup TetaVi raises $4 million. TetaVi develops volumetric video technology made portable using four depth cameras developed in-house. Read more
BiblioTech | CTech's book review: never take your eyes off your shoes. Tami Mazel Shachar, CEO of Software Company IncrediBuild, on Phil Knight's "Shoe Dog". Read more