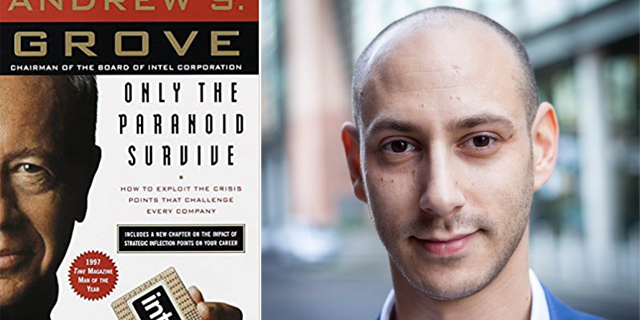 BiblioTech
CTech's Book Review: Surviving those Times When the Rules of the Game Change
Healthcare innovation manager at UK Israel Tech Hub at the British Embassy Samuel Cronin on Andrew S. Grove's "Only the Paranoid Survive: How to Exploit the Crisis Points that Challenge Every Company and Career"
Samuel Cronin
|
13:47 23.04.2020
Samuel Cronin is the healthcare innovation manager at UK Israel Tech Hub at the British Embassy. This is his pick for the best technology book he has read recently.
Title: How to Exploit the Crisis Points that Challenge Every Company and Career
Author: Andrew S. Grove
Format: Book
Where: While riding on a train
Description: The book is about how to anticipate and adapt to major, unpredictable changes. As Grove said in his book, by learning from the experiences of others, we can "improve our ability to recognise a strategic inflection point that's about to affect us. And that's half the battle."
Summary: Every company and every career faces strategic inflection points, those points at which the rules of the game suddenly and dramatically shift, never to return to their old ways, take a global pandemic, for example. Some of these are more predictable, others less so. Andy Grove uses his decades of experience leading Intel, along with case-studies from the past 100 years to help analyze and understand what one can do to try to anticipate them, "only the paranoid survive," and how to weather them when you're caught in the eye of the storm. Bottom line: Change is inevitable; the book isn't about avoiding change, it's about how you react when it comes. Some rise to even higher highs, others drown as their arms tire from treading water. But if you always anticipate change, if you're paranoid, you can try to plan for the worst. Hope for the best, but embrace the winds of change when they come. And understand that you're far from alone. What I've learned: Changes can be small like a gust of wind and they can be huge, "10X" changes like a typhoon. These are the changes that transform the essence of how business is conducted in an industry.
There isn't a rule book and don't look for one, "when you're caught in the turbulence of a strategic inflection point, the sad fact is that instinct and judgment are all you've got to go on". Emotions will play a larger role than you might anticipate, and that's ok.
The people in the trenches, salespeople, for example, can sense impending changes long before the senior management do, ensuring this information reaches 'central command' is essential.
When you do sense that a change is coming, many will dismiss your 'signal' as 'noise'. Likewise, don't dismiss someone else's signal as noise, investigate it, keep an eye on it, be ready for the threat to grow.
Most of the time, companies don't die because they made the wrong decision, they die because they failed to make any concrete decision during a crisis.
Critique: The book doesn't perfectly stand the test of time. Among a few examples, the final chapter is titled The Internet: Signal or Noise? Threat or Promise?, and Grove proceeds to explain what the internet is. The ideas presented are also not so dramatically new or surprising, but they are conveyed in a clear and well-written manner. Who should read this book: Relevant for anyone who wants to learn about finding their way through uncharted territories by studying the painful experiences of those that have done it and led by one of the sharpest business minds of the 20th century. Don't be deceived by the cover, this book is not about the semiconductor industry.