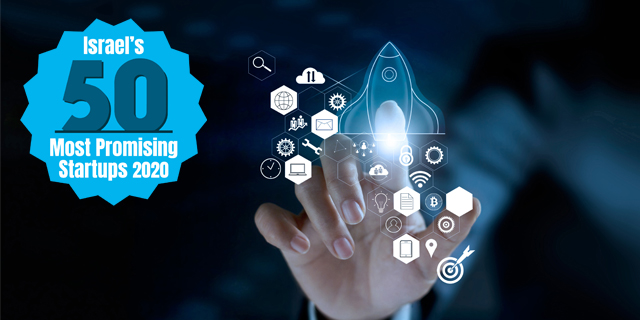 Top Startups
Top Israeli Startups 2020: Most Promising Deep Tech Companies
Calcalist and CTech highlighted the Israeli startups the look best posed to survive the Covid-19 crisis and even thrive by looking ahead to knowledge dominated world
Meir Orbach and Hagar Ravet
|
15:21 28.04.2020
From Logz.io to Pecan, these deep tech companies prove that groundbreaking innovation and strong teams can survive even the worst that the coronavirus (Covid-19) pandemic can throw at them. Calcalist, together with a committee of entrepreneurs, investors, and consultants, highlighted the Israeli startups the look best posed to survive in the short term and even thrive by looking ahead to knowledge dominated world. Check out out full list of the 50 most promising Israeli startups.
Logz.io
Products: machine data analytics platform
Year founded: 2014
Founder: Tomer Levy
Number of employees: 220
Funding raised: $100 million
Investors: 83North, Openview, General Catalyst
Logz.io, incorporated as LogsHero Ltd., is an artificial intelligence (AI) log analysis startup. Founded in 2014, it develops an open code system that uses predictive analytics and machine-learning algorithms to detect and process meaningful data in volumes of information automatically generated by computer servers, applications, and network devices. It raised $52 million in a series D funding round led by Massachusetts-based venture capital firm General Catalyst in May 2019. Logz.io is continuing to grow during the coronavirus pandemic, with retailers and companies showing interest after having to move online as a result of government imposed restrictions.
Binah.ai
Product: big data analytics
Year founded: 2016
Founders: David Maman, Michael Markzon, Konstantin Gedalin
Funding raised: $14.5 million
Investors: Maverick Ventures, iAngels, Global IoT Technology Ventures Inc. (GiTV)
A few months before the coronavirus (Covid-19) pandemic broke out, Binah.ai Ltd. decided to shift its focus from providing big data analytics services to financial sector corporation to digital health and telemedicine. The company now offers technological solutions that use mobile phone signals to remotely monitor patients' vital signs, including heart rate, respiratory rate, and blood oxygen saturation. This pivot has made Binah.ai especially relevant during this turbulent period, recently landing it a collaboration with hospitals in Montreal.
Pecan
Product: predictive analytics tools
Year founded: 2016
Founders: Noam Brezis and Zohar Bronfman
Number of employees: 30
Funding raised: $15 million
Investors: Dell Technologies Capital, S-Capital
Founded by a team of computational neuroscientists, Pecan AI Ltd. develops a predictive business intelligence system. Being able to quickly identify or predict possible flaws or vulnerabilities in a company's business model is always important, but at times of crisis, like the current coronavirus pandemic, it becomes critical for its very survival.
Pecan's system operates on the cloud and requires no technological know how, making it accessible for even the most low-tech industries. Food manufacturers and gaming companies are two industries experiencing a business boom due to the crisis and are prime targets for Pecan's service.
Quantum Machines
Product: quantum computing processors
Year founded: 2018
Founders: Itamar Sivan, Yonatan Cohen, Nissim Ofek
Number of employees: 25
Funding raised: $23 million
Investors: Avigdor Willenz, TLV Partners, Battery Ventures
The world's leading tech giants are currently engaged in a quantum computing arms race. Considered to be the next big thing, expensive and rare quantum computers are meant to exponentially grow available computing capabilities. Tel Aviv-based Quantum Machines Ltd., also known as QM, develops operation and control systems for quantum computer processors, which has already been adopted by several multinationals, startups, and academic labs.
The coronavirus pandemic brought with it an accelerated digitization process, expanding the demand for quantum computing, especially in such fields as diagnostics and pharma that are currently engaged in processing vast amounts of data to find new ways to beat the disease.
WekaIO
Product: scalable file storage
Year founded: 2013
Founders: Liran Zvibel, Omri Palmon, Maor Ben Dayan
Number of employees: 120
Funding raised: $68 million
Investors: Hewlett Packard Enterprise, Nvidia, Qualcomm Technologies, Gemini
The accelerated digitization processes brought on by the coronavirus pandemic, mean the data storage and processing industry might come out of the crisis bigger than ever.
WekaIO Inc.'s scalable file storage for data-heavy applications is popular among autonomous vehicle companies and its clients include Toyota, Europe's largest aerospace company Airbus Group SE and Israeli low-cost LiDAR startup Innoviz Technologies Ltd. WekaIO's product is not cheap, but offers clients who are using vast amounts of data, including those in the health sector, a way to process it seamlessly and quickly.
Wiliot
Product: smart stickers that transform regular products into smart devices
Year founded: 2016
Founders: Tal Tamir, Yaron Elboim, Alon Yehezkely
Number of employees: 46
Funding raised: $70 million
Investors: Vintage Investment Partners, Pepsico, Verizon, 83North, Qualcomm Ventures
Semiconductor startup Wiliot Ltd. develops a smart sticker that can be attached to any product and includes a bluetooth-enabled sensor that harvests energy from radio waves to turn any product into an internet-of-things (IoT) device. The sticker can provide information including an item's location, its surrounding temperature, and product information. The growing market for home deliveries, especially of perishable goods such as food and medicine, makes Wiliot's product even more relevant in the coronavirus era.
Click here for our selection of 2020's most promising cybersecurity startups
Click here for our selection of 2020's most promising logistics and e-commerce startups
Click here for our selection of 2020's most promising unicorns
Click here for our selection of 2020's most promising medtech startups
Click here for our selection of 2020's most promising entertainment and media startups