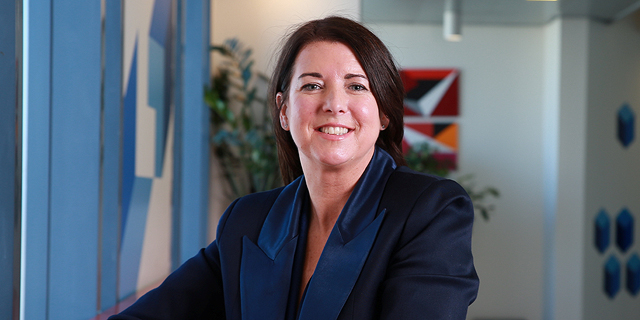 For Cyber Companies, There Is no Place Like Israel, Says Imperva CEO
Pam Murphy was appointed CEO of Israeli information security company Imperva in January, replacing Chris Hylen, who stepped down following a severe security breach
Meir Orbach
|
17:09 22.05.2020
The coronavirus (Covid-19) crisis will have a long-ranging impact on the way we live and do business, according to Pam Murphy, the recently appointed CEO of Israeli information security company Imperva Inc.
"I think there will be a lot more focus on work from home," Murphy said in a recent interview with Calcalist adding she was very impressed with the company's Israel center, in which everyone worked from home remotely throughout the period. "The team was very efficient during this time and we managed to launch new products," she said.
In the U.S., the companies that suffered the hardest blow are small and midsize businesses (SMBs) that are short on cash, Murphy said. Imperva does not have many SMB clients, yet it hates to see any of its customers struggling, she added. Imperva did have clients experiencing significant growth, especially in the food and e-commerce industries, Murphy said, but at the same time they also experienced an increased number of cyberattacks.
Founded in Israel in 2002 by Mickey Boodaei, Amichai Shulman, and Check Point Software Technologies Ltd.'s co-founder Shlomo Kramer, Redwood City, California-headquartered Imperva develops information security software for internal databases and web apps. Imperva's products are used by organizations mainly to protect their internal networks and detect malicious activity.
Imperva listed on Nasdaq in 2011 according to a company valuation of $400 million. In June 2016, Elliott Associates LP, a unit of activist hedge fund Elliott Management Corp., disclosed a 9.8% stake in Imperva and led an expansive reorganization process that included a change in management and eventually led its founders to
retire from the company
. In the last quarter of 2017, Imperva managed to become profitable for the first time, and, in January 2018, Kramer sold the remainder of his stake. Tech investment firm Thoma Bravo LLC acquired Imperva at the end of 2018 in a deal valued at around $2.1 billion, a 29% premium on its then-trading price on Nasdaq. Following the acquisition, Imperva delisted, reporting sales revenue of $90 million for its last quarter as a public company. It now employs some 1,100 people, 500 of them in Israel and the rest in the U.S. and Ireland.
Murphy was chosen for the job thanks to her experience at mega-corporations, including enterprise software company Oracle Corp. She took the position in January at a difficult time for the company: its former CEO Chris Hylen stepped down in October last year, two months after the company disclosed a data breach that endangered its cloud web application firewall (WAF) customers.
The breach happened before Murphy's time but she said she studied it thoroughly to make sure it would not happen again. "We learned there was a human error that should not have occurred and have since set up work procedures and guidelines to prevent such a thing from happening again," she said.
Murphy said that before she got into the cyber industry she felt a lot safer. "Now, working for a large cyber company with a research lab and a lot of data, I am exposed to a world that holds not only our own data but data from the whole market, and what I'm seeing is both sophisticated and scary," she said. As soon as she saw how powerful the attacks were and the places they originated from, Murphy said, she realized how crucial it was for companies to secure their applications.
Murphy said it can be expected that every company will be hacked at some point and that the only question is how it reacts. "I feel that Imperva was very transparent and accessible to its clients following the breach, but I realize we are expected to be stronger and more secure than other companies.
Imperva is Murphy's first CEO position and she said she is excited to lead a company with over 1,000 employees. "It is true that I have never worked for a cyber company before, but I feel that one advantage I bring to the table is my experience as a consumer," she said. "It is very important to know you are building a product your customers need," she added.
Murphy said being a private company again gives Imperva an advantage as it is no longer "a slave to quarterly results" and can work more freely, leading significant changes without constantly worrying about short term bottom lines.
According to Murphy, even though the company is no longer headquartered there, Israel is "at the center of its universe." Murphy first visited Israel when she was appointed several months ago and says she remains in constant contact with the Israeli center, either on video chat or in person during visits. The company plans to hire a significant number of people for its Israeli team, she said. "Even though the battle over talent in Israel is dire, there is no place like it for cyber companies."