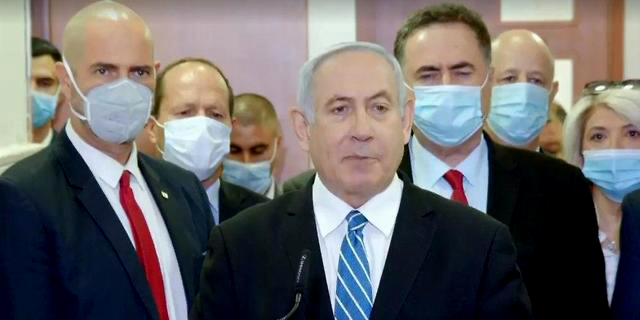 Netanyahu Trial on Charges of Bribery, Fraud, and Breach of Trust Commences in Jerusalem
Thousands of Israelis take to the street to protest, support the prime minister, Netanyahu calls charges "trumped up" and "delusional"
Benjamin Netanyahu became the first sitting Israeli prime minister to enter the courtroom as a defendant in a major corruption case when he stepped into the Jerusalem District Courthouse on Sunday afternoon. Flanked by mask-wearing lawyers, aids, bodyguards, and cabinet members, Netanyahu, who just last year broke the record for longest-serving prime minister, sat opposite the panel of three judges who will rule whether or not he is guilty of charges of fraud, breach of trust and accepting bribes.
"The left is unable to defeat me in the ballot boxes, so the new mechanism is joining forces with the police and the prosecution to trump up charges against me," Netanyahu said before he entered the courtroom, arguing that the reason they wanted him gone was to prevent him from carrying out his right-wing agenda of annexing parts of the West Bank and leading the charge against Iran.
Netanyahu spoke out against the former chief of police and the attorney general, accusing them of manufacturing evidence and tarnishing his name. He said his first request from the court would be that his trial be broadcast live from the courtroom to prevent distorted reporting by the media. Criminal proceedings in Israel are generally conducted without cameras present.
Thousands of Israelis took to the streets in Jerusalem to demonstrate their support or opposition to Netanyahu. The trial follows years of investigations, preliminary hearings, reviews, and public discourse on Netanyahu's alleged crimes, all accompanied by a long series of political maneuverings in which the defendant did all he could to try to prevent his case from going to court.
Netanyahu is accused of accepting gifts, such as cases of champagne and boxes of expensive cigars, from wealthy associates and of offering regulatory benefits to media tycoons in exchange for favorable news coverage of him.
In the most significant case, known as Case 3000, Netanyahu is accused of promoting legislation that delivered hundreds of millions of dollars in profits to Shaul Elovitch, the owner of a major telecom company in exchange for manipulating news coverage on a popular news site Elovitch owned.
Some of Netanyahu's closest aides and associates were turned state's witness in exchange for a plea bargain on offenses related to their role in the alleged crimes.
Netanyahu has consistently denied the charges, claiming he is the victim of an "attempted coup" by Israel's supposedly left-leaning state agencies, including the police, the state prosecution, and the media. It is estimated that the trial will take well over a year. If ruled guilty, Netanyahu can face up to a decade in jail.
His trial was originally scheduled to begin in March, but the hearing was postponed due to the emergency measures put in place to battle the spread of coronavirus (Covid-19). Last week, Netanyahu asked to avoid showing up in the courtroom for the hearing, saying it would save the state the security and logistics expenses.
Netanyahu is currently at the start of his fifth term as prime minister. Netanyahu's legal status played a central role in three rounds of hard-fought elections in a little over a year. In April, his Likud party signed a power-sharing agreement with former rivals Blue and White. Under the terms of the agreement, Netanyahu is set to serve half a term, in this case 18 months, as prime minister of the emergency unity government, after which he is set to be replaced by Blue and White chairman Benny Gantz.