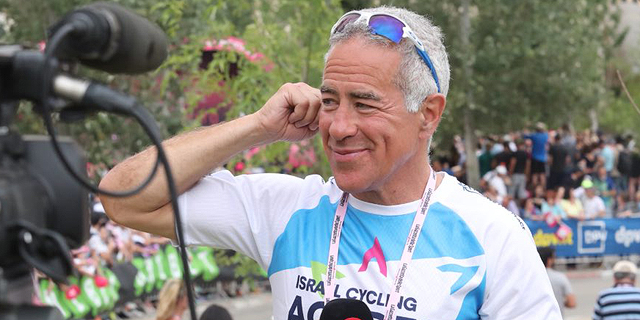 Canadian Billionaire Sylvan Adams Alleges He Fell Victim to a Real Estate Sting in Tel Aviv
Adams claims Israeli contractor Ran Ben Bassat overcharged him some $10 million for construction work on his Tel Aviv coastline luxury penthouse
Shlomit Tsur
|
12:49 02.06.2020
Canadian-Israeli billionaire philanthropist Sylvan Adams is suing an Israeli real estate contractor for NIS 36 million (approximately $10.3 million), alleging he was the victim of a sting operation. In his lawsuit, submitted to the Tel Aviv District Court last week and reviewed by Calcalist, Adams claimed contractor Ran Ben Bassat and his company Ran Ben Bassat Construction Applications Ltd. inflated the costs of renovation and construction works he commissioned for his luxury penthouse at the 10 Herbert Samuel coastline highrise in Tel Aviv. According to Adams, Ben Bassat and his company charged him twice the work's actual worth and pocketed the difference.
SpaceIL,
which attempted to land the first Israeli-made unmanned spacecraft on the moon last year. In Israel, he is perhaps best known for bringing the 2018
Giro d'Italia
bicycle race to the country, providing most of the required funding. In his lawsuit, Adams stated he will use all of the funds gained in court to serve the public's interest. In the lawsuit submitted through Adams' representatives—Ofer Tzur, Eli Cohen, and Alex Feldsher of Israel-based law firm Gornitzky & Co.—the plaintiff claimed that he decided to immigrate to Israel in 2014 and acquired a non-partitioned penthouse on the 20-21 floors of the tower constructed by Ofer Investments Ltd.
To complete the penthouse's interior construction, Adams contracted Ben Bassat and his company to plan, manage, and oversee the work, including handling the import and purchase of all required materials, in exchange for a 12% commission of the total cost of the project. The agreed-upon completion date for the project was December 2015, ahead of Adams' and his wife's relocation date.
According to the lawsuit, the plaintiff's penthouse was meant not only for Adams and his family but also included a training area, a private gym, and an oxygen chamber for gifted cyclists that are to stay with Adams from time to time while preparing for races or other sporting events.
Adams finally received the keys in June 2016, 18 months after the pre-agreed date, a period in which Adams and his wife rented a temporary residence, paying NIS 40,000 (approximately $11,400) a month, the lawsuit stated.
According to the lawsuit, Ben Bassat attributed the delay to his commitment to deliver the apartment defect-free. Adams alleges, however, that, upon taking up residence, he found significant defects in the apartment's construction, including malfunctions in the oxygen processing system for which he was charged $200,000. Other defects detected were doors that were not completely sealed, malfunctions in the electric door leading to the bedroom, and broken or defective glass items, including a staircase imported from Italy at a cost of over NIS 4 million (approximately $1.14 million), the lawsuit said.
Ben Bassat repaired the defects, demanding an additional sum amounting to several millions of shekels, the lawsuit alleges, without providing invoices for review, either for the new work done or for the original work, despite Adams' insistence. According to the lawsuit, only after being approached by Adams' legal representatives, Ben Bassat provided the plaintiff with invoices but those were for the sums paid by the plaintiff and not the original invoices for the works he was charged for. Adams claimed in his suit that he later found out from sub-contractors and suppliers engaged in the project that Ben Bassat paid them around half of what he charged him for their services. The lawsuit alleged the defendants pocketed the difference and also calculated their commission based on the inflated costs. Adams further alleged that most of the suppliers he approached refused to cooperate with him, claiming Ben Bassat prohibited them from speaking and went as far as threatening them. Adams claims he paid Ben Bassat and his company a total sum of over NIS 72 million (approximately $20.6 million), with tens of millions constituting overcharges.
In August 2018, Ben Bassat sent Adams a letter threatening to take legal actions if he fails to pay him an additional NIS 26 million (approximately $7.4 million), but he did not do so to this day. "It is no coincidence that Ben Bassat did not file a lawsuit for what he claims he is owed," Adams claimed in his lawsuit. The reason is that Ben Bassat knows a lawsuit would require him to provide the original invoices, thus revealing that the plaintiff owes him nothing and that he, in fact, needs to pay back tens of millions of shekels, he said.
Responding to Calcalist's request for comment, Ben Bassat's attorney, Oded Gross of Israeli law firm Amar Reiter Jeanne Shochatovitch & Co., stated that the work on Adams' penthouse was completed over three years ago and it constitutes one of the most expensive apartments in Israel.
It is very unfortunate that Adams, who owes Ben Bassat millions of shekels, Gross said, is choosing to avoid payment and file a baseless lawsuit. Adams' request to seize Ben Bassat's assets, filed at the same time as the lawsuit, was rejected by the court and for good reason, he added. "Ben Bassat intends to file a counter lawsuit against Adams and is convinced that once the honorable court examines the facts and see the 'big philanthropist's' true face, it will not only reject Adams' absurd lawsuit but rule in favor of Ben Bassat," Gross said. "It is disheartening that since the construction was completed, Ben Bassat had to finance Adams' debt out of pocket," he added.