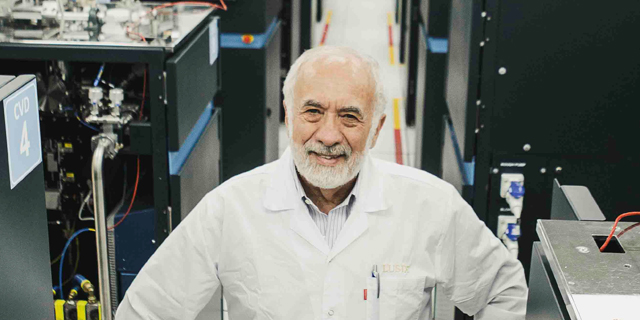 GM's 'people-first' approach was what made Indigo successful, says founder
A day after news broke of longtime general manager, Alon Bar-Shany's resignation, the man who first recruited him sung his praises
Golan Hazani
|
11:02 10.06.2020
"I see Alon Bar-Shany as a national hero. His value ranking is: family, Israel, Indigo, HP," Benny Landa, the founder of HP Indigo and the man behind its sale to HP said. Landa spoke to Calcalist one day after it was reported that Bar-Shany would be leaving the Israel-based printing giant after 25 years at the company amid its structural reorganization.
Landa, who hired Ben-Shany to work for Indigo, knows him well. Talking to him, you can feel his pain, and perhaps disappointment, at Bar-Shany's resignation, though he was careful not to discuss the circumstances of his protege's departure.
"I recruited him to Indigo 25 years ago. I know him very well. He came as a finance man, was promoted to head of finance and in 2004 was appointed general manager. He is a genuine leader. He showed real talent from day one. Indigo succeeded for two reasons: technology and culture. Workplace culture is no less important than a company's technology and Alon protected Indigo's culture for all those years. That is the secret to the company's success," he said.
What characterizes that culture you speak of?
"That people come first. There are companies whose slogans are 'clients come first,' or 'ensuring capital for stockholders,' but there are few companies who truly place their workers as the top priority. It pays off because the employees return that dedication and make sure everything else falls in place to the benefit of the clients and the stockholders."
How did it work? Keeping employees even at a heavy price?
"Protecting the employees above everything else. The foremost thing is attitude. Valuing your employees and making them realize that their efforts and achievements are appreciated. And yes, another aspect of that is placing the employees above other considerations, not being quick on the draw. When you put the interests and the livelihood of employees first, they return that loyalty to the company."
Ultimately companies want to earn money and prioritize stockholder profits
"I'm not saying that a company has to risk its existence or prioritize its workers' conditions above its own survival. A company can find itself in a crisis and lay off hundreds of employees and that's ok, but if it fires 10 or 20 people just to reduce expenses, that's a different story. When there is a crisis, you downsize and it happened at Indigo too. In 1995 we let many employees go because it was a matter of survival. But if it isn't a question of survival and layoffs are carried out to increase profits, that's not Indigo's way."
Was that what the friction with HP was all about?
"I can't really address that. I haven't been there for 20 years. I have no doubt in my mind that Alon put the Israel company and Israel at the top of his priorities. Indigo is a zionist endeavor, even though it is now part of a global organization. It considers the interests of all the stakeholders and that means the country and the community as well. Indigo doesn't exist only for the shareholders but also for the employees and the community. It is not simple to practice when you are part of a multinational company, but Alon believed in all his heart in these values. I brought them into the company and he embraced them wholeheartedly."
And ended up paying the price?
"I won't answer that question."