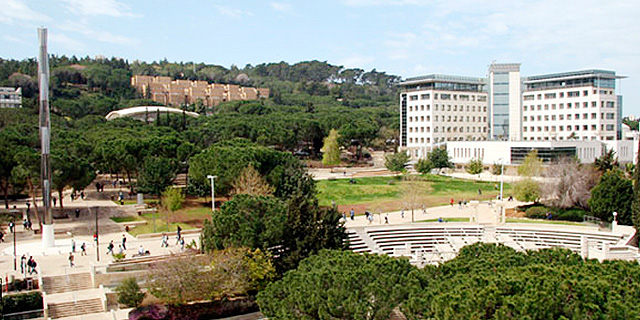 Israeli universities drop in QS annual ranking
Technion, ranked in 291st place, says survey data was faulty, accuses the government of not investing enough in research infrastructure
Ynet News
|
17:40 10.06.2020
2020 is not a good year for Israel's universities, with all four leading institutions dropping on
the list
of prestigious ranking company Quacquarelli Symonds (QS) that was published Tuesday. The top Israeli university on the 2021 list is Jerusalem's Hebrew University, which dropped 15 spots from last year's ranking, landing it in 177th place on the list that features top universities from 10 countries based on results of surveys among academics and employers, the faculty-to-student ratio, the ratios of international faculty and international students, and an average for research citations per faculty member.
601-650 range last year, to the 551-560 range this year.
The first three spots on the list went to U.S.-based MIT, Stanford and Harvard, with the first international entry going to U.K.'s Oxford University ranked fourth. The top-ranked Asian university was Nanyang Technological University in Singapore, which was ranked 11th overall. Hebrew University responded to this year's ranking saying it was "happy to continue to lead the Israeli higher education market," adding that the ranking " strengthens the university's Israeli and international status." The Technion meanwhile, issued a response, saying that the criteria QS based its ranking on "are drawn from commercial interests that serve the company, whose main activity is consulting universities on recruiting international students and faculty members." "The survey is inaccurate, to say the least, and the true quality of all the Israeli universities are much higher than the ranking presents," the university said in a statement. The Technion went on to say that some of the categories the ranking tested were irrelevant to Israeli universities, where language and immigration barriers make it far more difficult to absorb foreign students and faculty. The statement added that the survey had false data about the number of faculty members and foreign students at the institution. "That said, it is important to note that international competition in the academic world is increasing and while many governments are constantly increasing their investments in developing academic research, in Israel the resources invested in developing advanced research infrastructure are very limited. Unlike other public universities around the world, Israeli universities are forced to rely on dwindling foreign donations," read the statement.
* A previous version of this article mistakenly identified the University of Bar-Ilan as being located in Ariel