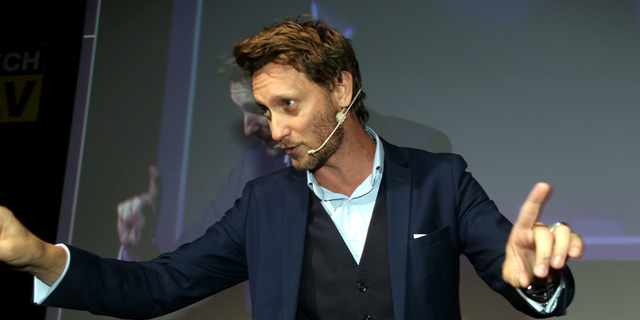 Lior Suchard's magic touch aided Israeli startup MUGO's acquisition by streaming giant Deezer
Master mentalist "hypnotised" senior managers at major companies to facilitate $40 million deal
There were many people involved in the long process that ultimately ended in the successful sale of Israeli music company MUGO Inc. to streaming giant Deezer,
announced
on Thursday, as part of its investment deal with the Mexican company, Grupo Salinas. The list includes of course founders Ori Segal, Roman Slutsky, and Shay Goldberg, but also another more well-known name - Israeli entertainer and self-described master mentalist Lior Suchard.
Suchard joined the company's journey in 2018 as an investor and strategic advisor, utilizing his connections in the global entertainment industry to present MUGO to major music labels across the world. "I'd like to thank Ori and the company for the amazing journey we went through together and I'm happy I was able to assist in bringing MUGO's groundbreaking innovation and its talented founders to such a significant achievement," said Suchard.
"Lior joined our advisory board in the summer of 2018. We traveled together to Mexico to meet Moshe Arel, Director of Innovation of Grupo Salinas and the right-hand man of Ricardo and Benjamin Salinas, the company owners, and at the same time to see the filming of the MUGO LIVE show which was being overseen by another of the founders, Shay Goldberg.
"The goal was clear, to use Suchard's expertise in business development and strategic marketing, as well as his assistance in reaching world leaders in the music business who Lior knows personally. We met people that are almost impossible to reach, including senior management members at Sony and Deezer, with Lior 'hypnotizing' the senior managers in every meeting while I closed the deal."
MUGO has developed a patented Live Share technology that allows listeners to sync to the same point in the song even when listening from a different source. In addition, the MUGO app lets you track users with similar musical tastes, share playlists, play music sorted by mood, and more.
The Mexican company's investment in the streaming service will be $40 million, bringing its total valuation to $1.4 billion — a major leap in value for Deezer. Following the investment, Deezer will acquire the assets of the Israeli company that will become part of Deezer.
Today, a television program called MUGO Live, which makes use of the Israeli app, is aired in Mexico. Following the acquisition, the program will change its name to Deezer Live.