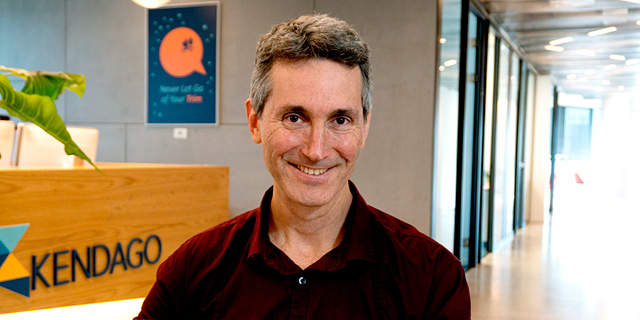 Interview
How did scientific marketing campaigns and Covid-19 conditions help Kendago reach 600% growth?
Thanks to the boom in business, Kendago, which currently employs around 50 people in its Kiryat Ono offices, is planning to increase its workforce by over 50% in the coming months
Allon Sinai
|
19:23 03.07.2020
Amidst the massive negative disruption being caused to the world's economy by the coronavirus (Covid-19) crisis, there are also those companies that are benefitting from the dramatic changes being brought about by the pandemic. One of those is Israeli digital advertising Kendago B2C Media Solutions Ltd. Kendago was on the rise well before the arrival of Covid-19, growing by 150% year-to-year in 2019 and generating $150 million annually in income for its customers. However, those numbers are dwarfed by its incredible growth so far in 2020, which according to CEO Rafi Magen has reached 600%.
"Advertising budgets dropped during the Covid-19 pandemic and there is also more advertising space online as people are at home and are online more. That led to a fall in the price of advertising on platforms like Facebook, Google and YouTube. We, on the other hand, didn't see any drop in demand as the companies we work with usually sell inexpensive products that are easy to purchase from home. So we received a massive boost in every aspect from Covid-19," Magen told CTech. "We are paying less for advertising and the sales are only increasing because people are at home and are buying online. We have registered huge growth in profitability in every aspect."
Kendago entered the field of digital marketing after starting off as the company behind the successful dieting program, Trim Down Club, which has over two million clients.
"At least 80% of success is marketing, not the product. We branched out into the digital marketing world by providing the marketing solutions we used for Trim Down Club to American companies. We told them that we can create for them the same success we created for Trim Down Club," explained Magen. "Our campaigns are led by engineers. We treat a campaign like science. We developed a technological layer that sits on top of the advertising networks and imitates a centralized campaign. It substitutes part of the work that is usually done by campaign managers and allows us to reach a higher level of optimization. Unlike traditional advertising which is mostly about creativity, optimization is extremely important in our field. The systems can identify at a very high level if there were any mishaps in the optimization and fix it. We also have a massive creative department, which is something else that separates us from our competition. Our expertise in the world of digital marketing is sales.
We don't do brand advertising. What we do is help our clients register sales."
Magen said numerous companies have profited from Kendago's tech, with one from the fitness sector set up just a few years ago currently spending around $300 million a year on advertising alone due to its massive success. Magen also told the rags to riches story of a single mother yoga teacher. "She was struggling and was looking for a way to break out of this cycle. She heard about digital marketing and decided to package tutorial videos of everything she teaches face-to-face. She created a yoga program for reducing back pain. With the help of our advertising, she now has sales of around $6 million a year," said Magen. "What ultimately separates her from the competition is marketing. The product is only 20% of the success. 80% is marketing and if the marketing isn't good it doesn't matter if the product is excellent."
Magen said that the businesses that work with Kendago usually have small operations, sometimes no more than just one or two people. Most of Kendago's clients are in the U.S., but Magen is hoping to one day help Israeli startups to succeed in the world of B2C (business-to-client).
"I think that Israelis are often very good at B2B (business-to-business), but when it comes to B2C and convincing the American client to buy their product they have a much tougher time. But there is a massive opportunity here because if you do this well you can very quickly reach massive revenues. For example, Israeli cosmetics company IL MAKIAGE has huge sales in the U.S. and the only thing that separates it from its competition is marketing," said Magen.
"What I would like to do is take Israeli startups that are focused on B2C and help them make the breakthrough. There are so many great ideas in Israel and with the right marketing and advertising they can reach huge market shares."
Magen believes those companies have little to lose as Kendago doesn't even charge any set commission from the client. "We operate on a success-based pricing model. We know how to create success very quickly so it isn't really a big risk from our standpoint because we know how to bring the client to a place in which he will make a profit. And once he makes a profit he is also willing to share some of it with us," he explained. "This is the general direction in which our industry is heading, but we took it to an extreme as we don't charge any set commission and sometimes we will even cover the cost of advertising on the different platforms so the client has absolutely nothing to lose. That is an ideal situation for the client and that is why our services are in very high demand.
"If you are good and know what you are doing in our industry you will become profitable very quickly. The investment you need to make before becoming profitable is relatively small. Therefore, we have never required outside funding and we are currently in a situation in which we are searching for acquisitions. Our liquidity is fantastic and we are continually making profits."