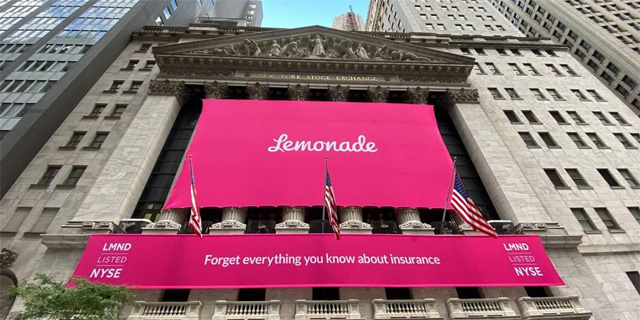 What is the truth behind the Lemonade IPO and which Israeli startup is predicting the future?
CTech Daily Roundup: Lemonade went overnight from being a unicorn that has never made a profit into a massive success
Analysis | The truth behind the Lemonade surge, America's most successful IPO of 2020. Lemonade went overnight from being a unicorn that has never made a profit into a massive success. But there are some investors wondering whether the underwriters forced the company to leave money on the table.
Read more
Co-living is wasted on the youth, Israeli startup Willa is offering urban living for midlifers. With their kids finally out of the house, 55 and ups have the time, money and desire for a change of pace; Covid-19 only highlighted the dangers of loneliness. Read more
Interview | From underwear to airline tickets, Israeli startup Fetcherr harnesses AI to predict prices. The company said it employs deep price neural networks to predict prices with 90% accuracy up to a year in advance. Read more
Next Food aiming for $7.5 million in first-of-its-kind IPO. The partnership, which is set to become the first R&D partnership to be traded on the Tel Aviv Stock Exchange, intends to invest in companies operating in varied foodtech sectors. Read more
Payroll and workforce management tool Papaya acquires HRIS platform Mensch. The acquisition will result in the first global human resources management system. Read more
7 gadgets that gained popularity in the coronavirus era. We all had a lot of time sitting at home this year. Here are some gadgets people collected to keep busy. Read more
Analysis | The fourth of July fireworks came early this year, loudly signaling a shift across the U.S. The coronavirus crisis led to a craving for normalcy. The quick and painful realization that it is no longer achievable gave way to hopes of redesigning the current state of affairs to sustain a revolution.
Read more
Interview | Israel's Startup Nation was born in caveman times. Coronavirus? Economic crisis? For Oded Galor, one of the world's most senior economists, these are just footnotes in the pages of history. In a new book he explains how geography made Scandavians calculated, why diversity is constructive in the U.S. but destructive in Syria, and why the last 200 years have been humanity's best. Read more
Interview | How did scientific marketing campaigns and Covid-19 conditions help Kendago reach 600% growth? Thanks to the boom in business, Kendago, which currently employs around 50 people in its Kiryat Ono offices, is planning to increase its workforce by over 50% in the coming months. Read more
Warning: the following game is, in fact, a drug. The FDA recently approved a video game as a prescribed drug for the treatment of ADHD in kids, opening the door to the development of new chemical and side-effect free treatments that can also be fun.
Read more