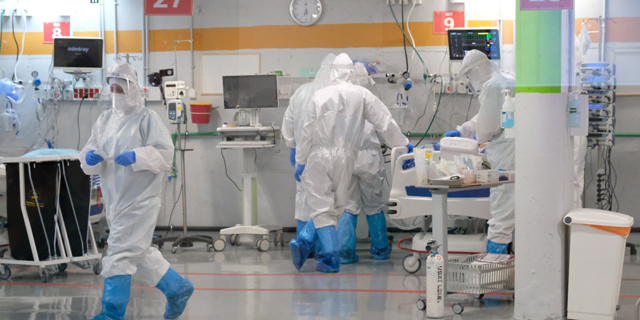 Second wave: Israel registers record-breaking 1,300 new daily Covid-19 infections
The government imposes a lockdown of Beitar Illit, where 16% of test results returned positive
Ynet News, CTech
|
10:28 08.07.2020
The second wave of the coronavirus (Covid-19) outbreak is washing over Israel, with the Coronavirus National Information and Knowledge Center reporting a record-breaking 1,319 new confirmed infections over the past 24 hours, an all-time high since the disease first hit the country in March. The previous daily record was 1,140, recorded six days ago. This was the third time this week that the number of newly diagnosed crossed the 1,000 people mark. The number of dead patients as a result of complications caused by the virus has reached 343, after 12 people passed away over the last two days. A slight decrease in the number of critically ill was recorded, currently standing at 83 people.
The government decided to impose a lockdown on the city of Beitar Illit, which was set to go into effect at 1 p.m. The city recorded 179 new confirmed cases over the last seven days, with 16% of tests conducted there returning positive.
Other high risk zones include the cities of Kiryat Malachi, Bnei Brak, Modiin Illit, Raanana, Jerusalem, and Tel Aviv. The second wave has resulted in a series of government decisions to reinstate some of the restrictions put in place during the first wave of the outbreak. They were designed to help curb the spread of the disease, which had all but disappeared from the country by the end of June.