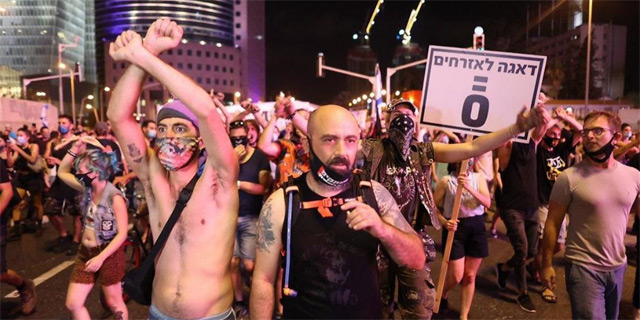 Protesters detained as Israelis rally against PM's economic response to coronavirus
Police say at least 19 protesters were arrested following a mass rally in Tel Aviv over the government's response to economic woes brought on by Covid-19
Itay Blumenthal, YNET
|
09:34 12.07.2020
Dozens of protesters were detained late Saturday and in the early hours of Sunday in Tel Aviv following a massive rally against Prime Minister Benjamin Netanyahu's alleged failure to address economic woes brought on by the coronavirus pandemic.
Thousands gathered at Tel Aviv's Rabin Square on Saturday evening, protesting what is widely seen as the government's failure to compensate hundreds of thousands of workers who lost their jobs as a result of restrictions and shutdowns implemented to battle the outbreak. Unemployment has surged over 20%, and Netanyahu has seen his popularity plummet.
Police confirmed that at least 19 protesters were arrested following the rally after they blocked major streets and interchanges to traffic as well, vandalized property, and scuffled with the officers at the scene.
When the police began using crowd-dispersal measures, the protesters allegedly began pepper-spraying the officers as well as throwing rocks and water bottles at them, shouting, "police state," "Bibi, resign" and "this is war". Some protesters smashed the windows of a bank and set several dumpsters on fire.
Around 2 a.m., a massive brawl between protesters and the officers erupted at Tel Aviv's Habima Square, where at least three officers were said to have been lightly wounded.
"As opposed to the protest, which took place at the start of the evening, this protest is illegal, violates public order and the rule of law," said the police in a statement following the arrests. "The police are working to disperse the rioters and will not allow the rally to continue and damage the fabric of life."
The protest was organized by unemployed, self-employed, entrepreneurs, and business owners. Participants wore masks but did not appear to be following social distancing rules.
"We haven't been working for nearly five months and unfortunately most of us have not received any compensation from the Israeli government and this is really a tragedy," said Daniel Tieder, a protester. "In every country all over the world people have received compensation and support from their government. Unfortunately, in Israel, we've received nothing yet."
On Thursday, Netanyahu announced the government's plan for an economic "safety net," promising quick relief to the self-employed and stipends over the coming year for struggling workers and business owners. The government is expected to approve the plan on Sunday. But the large turnout at Rabin Square was a sign of widespread discontent with the government's policies.
In the face of an angry electorate, Netanyahu's support has tumbled. A recent Midgam Research & Consulting poll on Channel 12 TV found just 46% of respondents approved of Netanyahu's job performance, down from 74% in May.