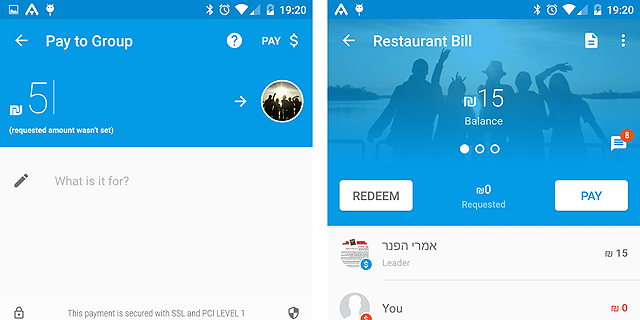 PayBox Payment Solutions shutting down, business as usual for PayBox payment app in Israel
The PayBox app, which only ever operated in Israel, will not be affected by company closure after being sold to Israel's Discount Bank three years ago
Irit Avisar and Hagar Ravet
|
13:41 12.07.2020
PayBox Payment Solutions Ltd., the startup that founded the PayBox payment application is shutting down. However, the PayBox app, which only ever operated in Israel, will not be affected after being sold to Israel's Discount Bank three years ago.
While the bankrupt company and the app share the same name, there hasn't been any connection between the two for years.
"These are two separate bodies that have no business relationship and this latest development has no impact or significance on Discount Bank's PayBox application that operates in the Israeli market and has around two million users," read a statement from PayBox application.
PayBox Payment Solutions Ltd. was founded in 2014, with Discount Bank purchasing the use of the app in Israel three years later.
PayBox is the second most popular payment solution app in Israel. The sector has experienced considerable growth over recent years, creating fierce competition between the different apps that are controlled by the major banks as well as with credit card companies.
Attorney Ofer Shapira was named by the Tel Aviv District Court as trustee for PayBox Payment Solutions Ltd. and will be selling the company's intellectual property and inventory. PayBox Payment Solutions Ltd. owes salaries to its employees and its total debts are estimated at over NIS 2.5 million ($720,000).
According to the request filed with the court, PayBox Payment Solutions Ltd. looked into the option of going public in Australia and made great efforts to find a buyer or investor, but "in recent days the investor with which it was negotiating notified it that he doesn't intend to invest."