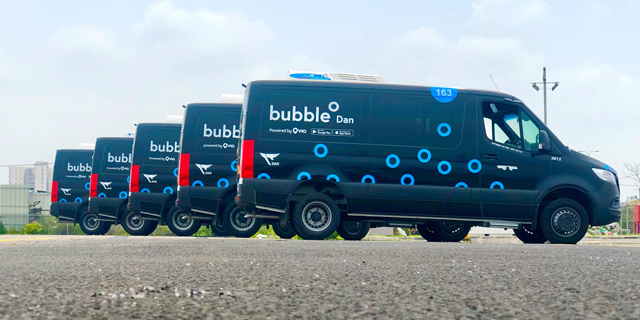 Reaching less than 50% its capacity, Via's Tel Aviv shuttle service gets another year on the road
The Israeli transportation ministry recently approved Via's ride-sharing service Bubble for an additional period of one year, likely realizing the need to monitor public transportation passengers is crucial in fighting off the current health crisis
Udi Etsion and Sophie Shulman
|
17:14 13.07.2020
In February, shortly before the coronavirus (Covid-19) pandemic broke out in Israel, Bubble, the Tel Aviv ridesharing service by New York-headquartered ridesharing company Via Transportation Inc., reached a milestone of an average 4.5 passengers per vehicle an hour and 5.4 during rush hour. For a service operating 10-seater vehicles, these may sound like relatively low numbers, yet they were enough for the Israeli Ministry of Transport and Road Safety to greenlight the project for an additional year, past its pilot period. The decision likely came from an understanding that the crisis had a damaging effect on Bubble's activity, on the one hand, and, on the other hand, that a tool allowing authorities to monitor passengers can be vital during a pandemic.
According to a recent Bubble user survey, around 35% of its users have used the service to replace rides in their private vehicles or by taxi. Bubble estimates this translates to a reduction of about 190,000 private vehicle rides since the service launched last year. About 75% of rides were to and from workplaces and conducted during rush hours. The busiest times on the service are 8 a.m., with an average of 849 rider requests, and 6 p.m., with 777 requests.
According to Shoval, January and February were very good months for Bubble considering the fleet only reached its target number of vehicles in November. He also emphasized that, currently, the number of passengers is still limited per the country's health regulations. The maximum number of passengers per vehicle is now seven.
According to Shoval, Covid-19 helped accelerate the adoption of smart transportation as it made reserving a seat and knowing exactly who was on each vehicle vital to monitoring the chain of infection.
New York City Department of Education chose it
to manage its school bus system. According to Shoval, before Via, the operation of the bus fleet cost the city $1.5 billion a year. Per the agreement, Via will provide New York with an automated school bus routing system that would allow schools, parents, and students to track buses in real-time and receive updates on any changes to the service. This type of transparency, Shoval said, has become critical since the Covid-19 crisis started, especially in light of estimates that the education system will continue to operate in small groups. Now, between 5% and 10% of all drivers in the city's school bus system are on standby ready to cover for any last-minute changes, Shoval said, adding that using Via's system eliminates the need for standby drivers, leading to a significant reduction in costs for the city.
If this sounds a lot like Moovit's vision for the future of public transportation, rest assured that it is no accident. According to several people associated with Via who spoke to Calcalist on condition of anonymity, Intel was considering to acquire Via as an autonomous public transportation management technology but eventually chose to go with Moovit, which it acquired in May, for around $1 billion. Via's valuation is now more than double, after reaching $2.25 billion at the time of its latest $400 million funding round in March.