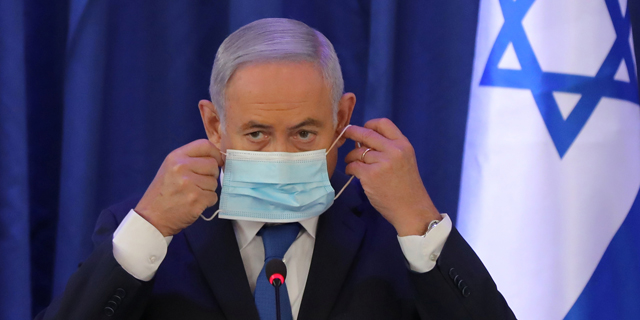 Israeli government to hand out relief payments amidst record number of Covid-19 infections
Prime Minister Benjamin Netanyahu announced on Wednesday that the state will be awarding a one-off payment for all Israeli adults to alleviate some of the financial pressures caused by the crisis
CTech, Ynetnews
|
11:02 16.07.2020
With the number of Covid-19 (coronavirus) infections soaring to new highs and public criticism of the government's handling of the crisis growing with every day, Israel Prime Minister Benjamin Netanyahu announced on Wednesday that the state will be awarding a one-off payment for all Israeli adults to alleviate some of the financial pressures caused by the crisis.
Single people over the age of 18 without children will receive a payment of NIS 750 (approximately $220), while a family with one child will receive NIS 2,000 (approx. $580). Households with two children will receive NIS 2,500 (approx. $730) and households with three or more children will receive NIS 3,000 (approx. $875).
"Why are we giving this money? We have to get the economy moving," Netanyahu said. "This money will boost consumer spending and employment."
The one-off payment comes in addition to the economic aid plan the government approved earlier in the week. Netanyahu said the money would be received within days through the National Insurance Institute system, but noted that final approval had to come first.
"I'm sure I'll get the support of (Alternate Prime Minister) Benny (Gantz) and the others, but it is not certain we will not have to go through legislation," he said, in which case the payments will be delayed.
The prime minister said he expected all Knesset factions to support such a move, given that they would have to legislate for the full economic plan in any event. But the head of the Knesset Finance Committee, MK Moshe Gafni, slammed Netanyahu for his plan. "Why do we have to give money to the rich?" asked the lawmaker from the ultra-Orthodox United Torah Judaism party after the announcement, adding that he was not surprised the government was "trying to avoid" bringing the move for a Knesset vote.
The Ministry of Health reported on Thursday morning a new daily high of 1,898 new infections and Netanyahu admitted that another full closure could be on the cards.
"We are doing everything we can to avoid a full closure, but to avoid it, we need your full cooperation, citizens of Israel," he said during Wednesday's press conference in Jerusalem. "The second wave we have been discussing is already upon us. We are fighting it with determination and unity. We are taking health and economic measures. I hear (your) distress."
With unemployment at a record 21%, thousands of Israelis demanding economic relief demonstrated against Netanyahu on Saturday. The prime minister denied the street protests had prompted the new aid package. A poll by the non-partisan Israel Democracy Institute on Tuesday found only 29.5% of the public trust Netanyahu's handling of the health crisis.