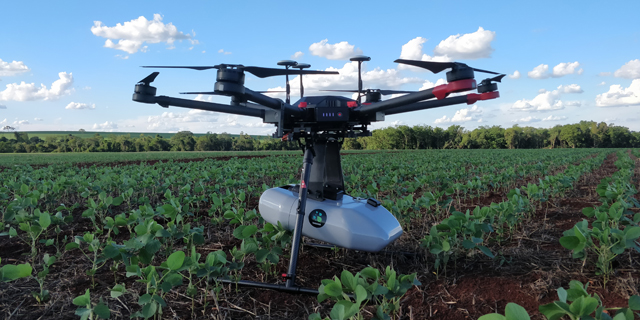 Agtech intelligence company Taranis raises $30 million
Taranis' system analyzes ultra-high-resolution images of crops to detect early signs of diseases, insect infestations, nutrient deficiencies, water damage, and other risk factors
Meir Orbach
|
15:00 21.07.2020
Tel Aviv-based agricultural intelligence company Taranis-Visual Ltd. announced Tuesday it has raised $30 million in a series C round led by Vertex Growth, Asian conglomerate The Kuok Group, through its venture capital arm K3 Ventures, and Japanese multinational Hitachi Group.
Additional participants in the round, which brings Taranis' total funding raised to date to $60 million, include Mitsubishi UFJ Capital, iAngels, Gal Yarden, the president of the EMEA division at drip-irrigation company Netafim Ltd., and existing investors Vertex Ventures Israel, Viola Group, Finistere Ventures LLC, and equity crowdfunding company OurCrowd Ltd.
Founded in 2015, Taranis operates fleets of drones and low-flying aerial vehicles capable of capturing ultra-high-resolution imagery mid-flight. Taranis' artificial intelligence system analyzes these images and aggregates data from satellite images, sensors, and smart irrigation systems, to detect early signs of crop diseases, insect infestations, nutrient deficiencies, water damage, and other crop risk factors. Taranis' system can cover an area of 400 dunams (400,000 square meters) in just six minutes, according to the company.
Taranis employs 80 people worldwide, half of them in its research and development center in Tel Aviv.
The main purpose of the round, according to Taranis Co-Founder and CEO Ofir Schlam, is to strengthen the company's sales and marketing efforts. "We started raising the money at the end of February and the most serious talks were held in March at the height of the coronavirus (Covid-19) crisis," Schlam said in a phone interview with Calcalist. "We got a lot of offers from prominent investors but eventually chose to stick with Vertex," he added.
Taranis is fortunate that its market was not hit by the recession, Schlam said. Since it serves farmers Taranis remained active throughout the period, he added. "The U.S. went into shock from mid-March through early April, but then we went back to work and the farmers went back to work," he said. "Our industry is one of the few that benefited from the crisis," he added.
According to Avner Gideoni, Taranis' Israel country manager, the company's technology is based on four areas: artificial intelligence, software, hardware, and operations. "The revolution the agriculture sector is undergoing today is parallel to the one cybersecurity underwent in 2010," Gideoni said in an interview with Calcalist.
Before joining Taranis, Gideoni was an executive at anti-fraud company Trusteer Inc., acquired by IBM in 2016. "The added bonus in this case," he said, "is that this change helps the environment and promotes sustainability worldwide."
"The agtech market will soon see consolidation around imagery with just a few strong players remaining," Hock Chuan Tam, managing director of Vertex Growth, said in a statement. "We firmly believe that Taranis will be leading the pack," he added. "With Taranis' support, growers, retailers, cooperatives, and crop consultants can detect, analyze, and treat crop issues at their earliest signs, taking preventive measures with unprecedented precision and gaining a higher degree of control over their crop yield than ever before."