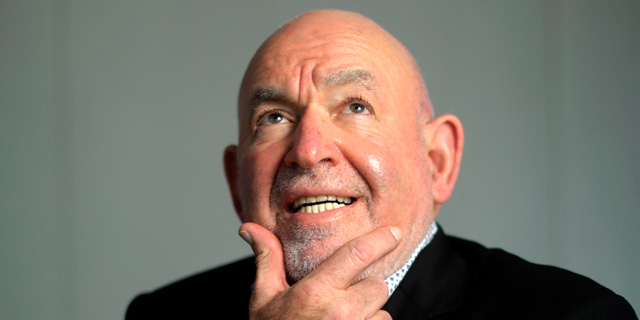 Interview
Educate kids about the pandemic and they will teach the adults, says BrainPOP founder
He was among the first doctors to treat AIDS in the U.S., and believes kids are our best bet in fighting off Covid-19
Yoghev Karmel
|
10:41 25.07.2020
Avraham Kadar, 69, is a physicist, a medical doctor specialising in immunology and pediatrics, an angel investor who backed an array of Israeli startups, and an entrepreneur himself.
In 1998, he founded New York-based education services company BrainPOP, which develops digital learning tools and offers educational animated shorts, quizzes, and games for kids in various fields and especially science.
The company is active in the U.S., China, the U.K., France, and Mexico. In Israel, its products are used by the Ministry of Education as part of the curriculum and on the websites' of the Ministry of Health and the country's largest health maintenance organization (HMO) Clalit Health Services.
BrainPOP is the largest supplier of educational experiences in the world and its content is used by more than 800,000 schools and families, not taking into account occasional non-registered users.
Kadar's motivation in setting up this service, like so many of the main crossroads in his life, had something to do with pandemics. Kadar grew up in central Israeli town Rishon LeZion and when he was 18 months old he contracted polio, which left which left his left leg paralyzed.
Two decades later, in the early 1980s, he served a Fellow at the American National Institutes of Health (NIH) where he found himself at the forefront of dealing with a new and mysterious virus that was dubbed HIV. Kadar and his colleagues met with the first HIV patients in the U.S. and were tasked with informing the medical community and the general public about AIDS.
What did it feel like to be a doctor finding a pandemic back in the 1980s?
"Amazingly helpless. I saw so many good people die without any way of helping them. You put a patient in a room and you monitor them for hours only to watch them fade away. I lost 300 patients to this illness. I was taking care of children who had AIDS, which was even worse. Now we know it was an easily treatable illness and people just died because of mistakes being made.
"After I left the NIH, I realised patients don't get any information. The doctors keep it to themselves. Doctors work according to a set protocol and, at the time, no one even thought about personalized healthcare, so they were hurting patients with massive pharmacological treatments that sometimes had harmful side effects. Patients had no idea what was going on with them. Immunology is a holistic medical field and there isn't one cell in the body that is unaffected by it. That is why I decided I had to teach patients about their condition and that is what I started doing."
So, you could say you got into education because of AIDS?
"Yes. What bothered me the most is that we, the medical community, had an incredible level of knowledge and important insights that did not reach doctors in real time, the information wasn't always passed on to students as quickly as it evolved. With AIDS, there were also a lot of stigmas and bias involved, so let's look at asthma as another example.
"In the U.S., asthma was diagnosed and treated according to a specific protocol and so it took many years to identify the connection it has to allergies. In the beginning, pulmonologists were the ones who treated asthma in children, it was their kingdom, but they didn't believe in allergies. When it was later discovered that 90% of asthma cases in children are caused by allergies it took time for this information to seep in. This type of information, were it known earlier, could have prevented kids from getting sick in the first place, by airing out the house or cleaning it more thoroughly, for example. So, education and clear instruction create a type of preventive medicine."
So, you're saying giving the public clear information is a crucial aspect of preventive medicine?
"Exactly. In Israel, they are also trying to educate but, right now, the ads they are putting on television are meant to intimidate instead of just explaining that you need to wear a mask over your nose and that coronavirus (Covid-19) spreads as we talk and that is why it is crucial to keep our distance."
And why do you target children?
"My approach is that is that one cannot rely on adults. I teach the kids so that they will educate the adults. I am transferring the responsibility to the children. That is how we worked when it came to addressing racism in the U.S. I believe children are agents of change, we saw this in Israel with campaigns to protect wild flowers and save water, for example. I stopped smoking because of pressure from my children, following a very intense campaign on the subject targeting them.
"Children are always true and agenda free, they say what they think, seemingly innocently, but it comes from deep insights that adults can no longer come to. That is why, as soon as Covid-19 broke I told the company 'have a video on coronavirus ready in 48 hours because that is all anyone is going to talk about.' We were the first to publish such a video for kids, as early as February."
Your boss at one time was Anthony Fauci, who, since AIDS and up to Covid-19, heads the NIH's National Institute of Allergy and Infectious Diseases, and is now being accused by the Trump administration of overstating the severity of the disease.
"Fauci is a very serious man. He is a diplomat who has served six presidents. When AIDS broke out, he was part of changing the stigma around the disease. He understood the power of education and the need to use the media to reach people, to have doctors step out of hospitals to talk about the disease. He would go to bars himself to raise awareness of AIDS. So, I am not surprised he is the only one who is telling U.S. President Donald Trump the truth. He has a very good group of scientists and people around him. They visited China in December and they knew exactly what is going on."
Yet, this hasn't helped the U.S. manage the pandemic.
"The main problem is lack of leadership and contradictory guidelines. In places where guidelines were clearer, the situation was better, for example, in New York. The hospitals themselves are also doing a good job spreading the information, making discoveries, and publishing research."
Israel also has coronavirus deniers.
"What is missing in Israel is transparency. They can't say they don't have the data, they do, they just don't make it public. I think people just don't understand the severity of this virus, which is unlike any other, in terms of its method of spreading, for example."
You have lived in the U.S. for the better part of the last 30 years, working there as a physician, but, in March, you moved back to your Tel Aviv apartment due to Covid-19. Is this a testimony in favor of the Israeli healthcare system?
"The average care you get in Israel is far superior to what you get in the U.S. and the doctors are better here. I came here because I knew the treatment would be better. In the U.S., many cases were treated wrong, which caused a lot of damage to people. The gaps between these two systems are huge and they will only get bigger."
Did the circumstances created by Covid-19—people locked in their homes, children with unlimited screen time, a shift to distance learning, and an increased interest in medicine—give BrainPOP a boost?
"When the pandemic started we opened our sites for free use and saw our traffic triple, compared to the same period last year. Over a three-month period the number of subscribers more than doubled with hundreds of thousands of families and tens of thousands of schools from all over the world registering."
What videos are especially popular during this time?
"In the U.S., it is mostly science videos—on how to grow plants, for example—due to the shift towards distance learning and the need to substitute in-class learning. But we also saw an increasing interest in Social and Emotional Learning (SEL) including subjects such as bullying, anything to do with emotional learning, mindfulness and managing anxiety, stress, and loneliness."
Did distance learning lead you to develop new tools?
"The main breakthrough for us is that parents suddenly realised what kids were doing at school and they didn't really like what they saw and wanted to get more involved. So, the main thing we did differently due to Covid-19 is create a new product for kids learning with their families or on their own, but at a home setting. For example, if a child completes a certain unit they get a special badge and go to the next level, like in a video game. The whole experience was gamified and, at the same time, parents could get reports on what their child is doing and where their interests lie, and the videos are also meant for adults to enjoy. Before, they didn't care about it, because school was somewhere other than home."
Is this the future of the education system? Could such technologies replace teachers?
"Pedagogically speaking, we could serve as a complete substitute for the education system, but it's not practical. In New York, for example, they could not shut down schools before they could arrange an alternative to school lunches—it's a system that has a lot of objectives other than learning. In Israel too, the education system is a babysitter of sorts and that is why schools here were reopened in such a rush.
"Schools will have to change and Covid-19 is just accelerating a process that was happening anyway. In the future, for example, learning will be collaborative, as it is with Jewish religious study, we could give students on our platforms the basic information and they can take it from there."
Could animated videos also help adults learn?
"When we first started out, our target audience included ages 65 and up. We could have been attractive for pensioners but we decided to focus on children. Now, there are other companies providing adult education content, it's an interesting market. We already have pilots for adult content but to take this forward we are going to need the right partner."
Some of your recent videos deal with subjects that are controversial in the U.S., such as LGBTQ, and racism.
"In the U.S., we are an in-school product so it is hard to convince our customers that we need to cover these subjects but I decided that even if it results in financial damage, kids need to know about these issues. Each school can choose which content to block and we found out that what they blocked most of all was anything to do with sexual education. I thought they would block LGBTQ-related content.
"My guiding principle is that you cannot trick kids because they understand everything. You just need to let them fill in the blanks and give them space to develop their own knowledge. Kids don't think in terms of absolute good or bad, so, if we're dealing with a subject like violence, we will try to get them inside the head of a violent person. At the same time, we will present to the kids the disastrous consequences of violence, the point of view of the victims of violence and warn against it. There are a lot of people that are unemployed right now, so, if someone becomes angry, like in a demonstration, because they are unemployed, I want the child to learn to forgive them and not judge them harshly."
You are almost 70 years old, yet you still create for children.
"I am a child at heart. I have trouble with friends that gave up on life, especially Israelis, by the way. I still have two or three careers ahead of me, as I start a new career every 10 years. That is why, several months ago, I stepped down as CEO of BrainPOP and became its chairman. I now plan to study Hebrew literature and start writing."