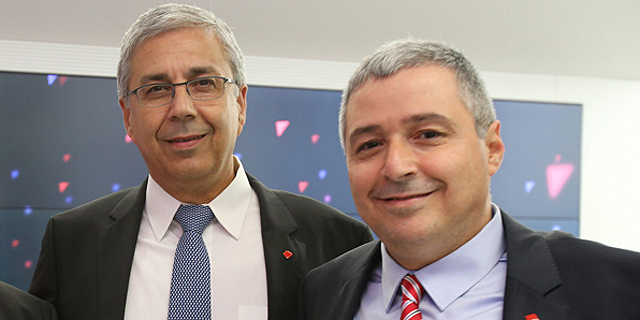 Chomping at the Bit: Former Hapoalim execs join payment app race with investment in AppliCheck
Former Hapoalim CEOs Zion Kenan and Arik Pinto, as well as Shimon Gal and Tomer Sharet, will invest several millions of shekels for 10% of the check verification company that is in the process of developing a payment app
Irit Avisar
|
12:06 26.07.2020
Three former Bank Hapoalim executives, including two former CEOs, are investing in AppliCheck, which operates a check verification application and is in the process of developing a payment app that will compete among others with Hapoalim's Bit, the most popular payment app in Israel.
Former CEOs Zion Kenan and Arik Pinto, as well as Shimon Gal, formerly the head of the bank's corporate bankinvg division, and Tomer Sharet, former CEO of EMI, a subsidiary of the AIG Holdings Group, will invest several millions of shekels for 10% of AppliCheck. As part of the agreement, the four will have an option to increase their holdings to 30%. The deal values AppliCheck, founded by Meni Guy, at tens of millions of shekels. It is believed that the new investors have joined the company to help broaden its financing options with the ultimate goal of going public within two years.
Kenan and Gal are expected to be involved in the company's advisory board, which unlike a directorate board doesn't have any authority. Pinto and Sharet are expected to be passive investors. The four purchased their shares separately (2.5% each).
AppliCheck, which was founded in 2012, launched an application for check verification in 2017, which provides cash advance on checks and check clearance guarantees via a mobile app. The company also received in 2018 a license from the Ministry of Finance to provide credit. It is estimated that AppliCheck provides hundreds of millions of shekels in credit a year and has continued to do so during the Covid-19 crisis.
The company intends to enter additional verticals, including payments, with AppliPay currently undergoing a pilot. The app will allow the transfer of money to contacts, payment at businesses, withdrawing cash from ATMs, as well as receiving credit and loans digitally.
The connection between AppliCheck and Hapoalim is not coincidental, with the company already including several former bank employees, including Chen Cohen, the former head of mobile and one of the developers of Bit, as well as Niv Polani, the former chief corporate development officer at the bank.
While Bit is considered to be the most popular payment app in Israel, it is not yet profitable for Hapoalim as the bank currently subsidizes the money transfers.