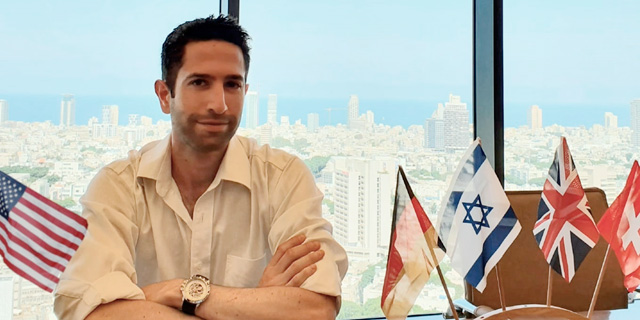 Interview
Unprecedented challenges require unprecedented actions
Managing partner at Cukierman & Co. Investment House, Noach Hager, is optimistic regarding the Israeli economy's long-term future, but is expecting some difficult days to come first
Allon Sinai
|
21:57 28.07.2020
Any hopes of the Israeli economy bouncing back quickly in the third quarter of the year are as good as gone and shekel depreciation is likely on the horizon, according to Noach Hager, managing partner at Cukierman & Co. Investment House and the head of the firm's energy arm.
Hager, who in his former roles advised early-stage startups at Razden Ventures, worked as a global business manager at RSA, the Security Division of DELL-EMC, and was an economist at Bank Leumi, is optimistic regarding the Israeli economy's long-term future, but is expecting some difficult days to come first.
"When you look out at the Israeli economy today it's really not as rosy as we thought it was going to be a month or two ago when it first opened up following the Covid-19 lockdown," Hager told CTech. "There is a lot of frustration on the street, there are social protests related in part to the economic crisis and a lot of frustration related to government policies, on the health preventative side and also on the economic policy side. When you couple this with the decline in foreign currency inflows, including foreign investment in Israel's venture capital industry, which is still flowing but at a much reduced rate, and you also look at the political uncertainty, the lack of perceived government unity and even recent talk about elections, you have to say that all this uncertainty is going to spur shekel depreciation over the short to medium term."
"We thought that GDP was going to be hard hit in Q1 and Q2 and that there was going to be a quick recovery in Q3 and Q4," Hager said. "But the fact that Israel has decided to prolong its border closures until September, businesses are shutting down and the unemployment rate is still very high, this all has significant ramifications going into Q3 at least. So 2020 GDP is going to experience a serious decline."
Hager said he understands some of the pushback regarding the economic policies that have been unveiled by the Israeli government, but said that all in all they were positive, including the check for every citizen program in which all Israeli adults are meant to receive a one-off payment. "The policies haven't been subpar or great but they have been good. The first thing you have to do with the support packages is to cut the bureaucracy and cut the time to money. The check for every citizen initiative is the quickest way to support people on the individual level," explained Hager. "Even the high-income earners that receive the benefit, they are the ones who are working and are paying the taxes that are eventually going to pay for the budget that is supplying these grants. So consider it a tax break for them."
Hager said the state guaranteed loan program to help small businesses and self proprietors was initially perfect, offering the higher of 16% of revenue from 2019 or up to NIS 500,000 (approximately $146,000), only for the government to backtrack on the half-a-million-shekel provision within two weeks.
"This caused significant damage to the startup owner for whom 2019 was his growth year. He started to build up a reputation and revenues and maybe he wasn't even paying himself a salary and living off his savings. He made NIS 100,000 revenue in 2019 and 2020 was supposed to be his big year with expected revenue growth of NIS 600,000-700,000. Coronavirus came along and his plans got thrown out the window. What is this person going to do with a NIS 16,000 loan? He needs to apply for a NIS 300,000-350,000 loan in order to survive. So in that respect, they failed this type of business owner."
Hager believes this crisis may also result in the next big bubble.
"When you look at various western countries whether it is Israel, European countries, Canada, the U.S., or even emerging market economies, the governments have unveiled a lot of stimulus packages and there is a lot of government spending to support the economy. It clearly benefits the private sector, but what you have to look at is what are going to be the consequences on government budget deficits and fiscal stability over the long term," noted Hager. "In order to finance these fiscal packages a lot of the governments are probably borrowing more than they can handle. At the end of the day, they are going to have to repay the interest and the principal and when you look out to the next two to three years I really think you'll see a wave of credit rating downgrades amongst some of the leading economies in the world. I think the next financial bubble could be the great government bond crash."
Hager leads the energy arm at Cukierman, which is considered one of the leaders in cross-border investment in Israel and provides a full array of financial advisory services, including M&A, private placements, licensing and partnership transactions, asset management, and strategic consulting. Hager was spot on in his prediction from March 9 that Brent crude oil would drop to a low of $20, which happened on April 19-20.
"You had the perfect storm on the supply and demand equation. You had severe demand destruction for jet fuel, gasoline and diesel because of the lockdown, social distancing and travel restrictions, and when you combine that with the price war that occurred between Saudi Arabia and other oil producing countries it was a perfect storm," Hager said.
With the Covid-19 pandemic presenting unprecedented challenges, Hager believes Israel may want to consider making unprecedented moves. Hager suggested taking a leaf out of the book of Saudi Arabia, which transferred around $40 billion from its central bank's foreign exchange reserves to its sovereign wealth fund in recent months to boost economic growth.
"In times of crisis, you can cheat. How is the Israeli government going to finance all this fiscal spending? The bank of Israel, for example, is sitting on more than $100 billion of foreign currency reserves," said Hager. "It's okay to cheat once in a while and do a one-off transfer to the Ministry of Finance for let's say $5 billion or $10 billion, or even direct the funds to a new sovereign wealth fund that could make minority investments in Israeli companies to offset a decline in foreign direct investment."