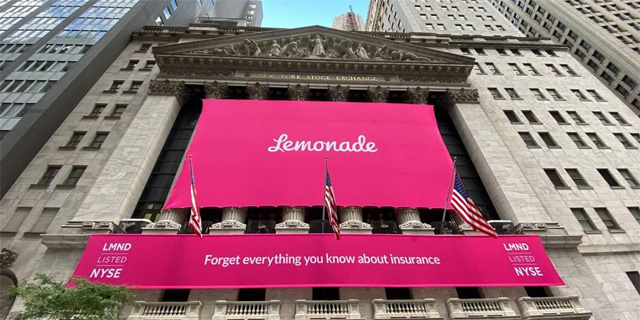 Analysis
Goldman Sachs drops a bombshell on Lemonade
In an unusual step, analysts from Goldman Sachs, which was the underwriter for the online insurer's successful NYSE IPO earlier this month, cut its price target by nearly 50%, urging investors to sell
Sophie Shulman
|
13:07 29.07.2020
On Monday, something unusual happened on Wall Street. Just one month after the
successful initial public offering
(IPO) of online insurer Lemonade Inc. on the New York Stock Exchange, its lead underwriter, Goldman Sachs, dropped a bombshell, initiating coverage with a recommendation to sell at a 44$ price target. This target was nearly 50% lower than Lemonade's share price at the time. Underwriters are normally expected to take some moral responsibility for the companies whose IPOs they are signed on and continue to back them. Their name and reputation often serve as an assurance for investors that the company is indeed an attractive investment and are crucial for a company choosing underwriters.
reawakened criticism
concerning the working methods of Wall Street's underwriters, who often tend to sell the shares of attractive companies on the cheap to investors they are used to working with. This means companies do not get to make the most of their IPOs, in terms of cash inflow.
Now, a month after the bank served as Lemonade's underwriter in an IPO that brought in $320 million for the company, Goldman Sachs' analysts say one of its future challenges will be raising additional funding.
Lemonade currently operates in the U.S., Germany, and The Netherlands. Earlier this month it announced it was entering the pet insurance market in the U.S., in addition to its home and renters insurance offerings. While its business model, based on AI tools reducing the need for human agents, allows it to save on expenses and be cheaper than its competition, it is still a long way from becoming profitable. In 2019, for example, after tripling its revenue to $67.3 million, its losses still amounted to $100 million.