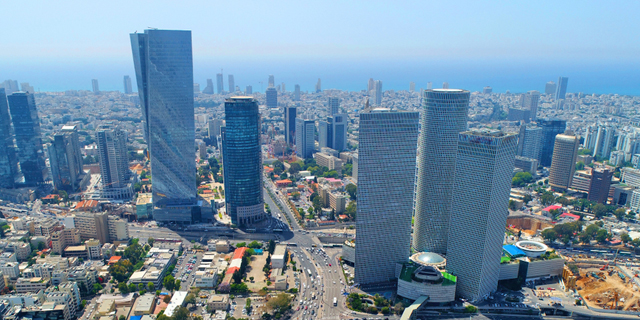 Intel renting four more floors in Tel Aviv's Azrieli Center despite pandemic real-estate crunch
Intel is renting the four floors with a total space of 6,000 square meters for the employees of Habana Labs, the Tel Aviv-based artificial intelligence chip developer Intel purchased for $2 billion last December
Shlomit Tzur
|
10:58 30.07.2020
Despite the ongoing crisis in the office real-estate industry, major deals are still being struck, with Intel Israel set to rent four additional floors in the Azrieli Triangular Tower in Tel Aviv for a yearly sum estimated at NIS 7.5 million (approximately $2.2 million), a person with knowledge of the deal told Calcalist under the condition of anonymity.
Intel is renting the four floors with a total space of 6,000 square meters for the employees of Habana Labs Ltd., the Tel Aviv-based artificial intelligence chip developer Intel purchased for $2 billion last December. Habana Labs currently occupies one floor at the Azrieli Center.
The four floors that will home Habana Labs are among 17 floors to be vacated by Bezeq, Israel's largest telecom company, by the end of the year. Bezeq is in the process of relocating to the Azrieli business park in Holon.
Bezeq is paying around $23 per meter in the iconic Triangular Tower in Tel Aviv for office space of 22,400 square meters between the 11th and 27th floors. Azrieli is currently targeting at least $10 more per meter and is in negotiations with several companies.
The Azrieli Group and Intel did not respond to a request to comment.
Azrieli is also in the process of renting out its new Town Tower, which was built with a total investment of $300 million. According to the company's reports, it has almost rented out all 50,000 square meters available in the tower, although there are some question marks hanging over one of the biggest tenants, WeWork, which was dealing with internal turmoil even before the shared workspaces sector suffered a painful blow from Covid-19.
Calcalist published earlier this week that Facebook is also
expanding
its office space in Tel Aviv. Following in the footsteps of Microsoft Israel, which recently announced its plans to acquire more office space in Tel Aviv, Facebook Israel has signed a deal to rent two additional floors in the Azrieli Sarona Tower.
The office real-estate industry in Israel has recently suffered several blows after prominent tech companies announced their intention to significantly reduce the use of office space as they shift to a work from home model. Earlier this month, Calcalist revealed that LivePerson Inc, which employs 1,300 people, 350 of them in Israel, plans to forego using offices altogether. Check Point CEO Gil Shwed also recently stated his plans to reduce his company's office space.
A recent study by Standards & Poor Maalot, predicted that office real-estate value in Israel will drop by as much as 10% due to the Covid-19 crisis.