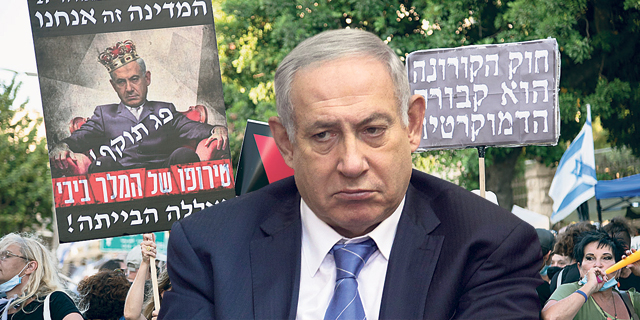 Facebook says profile that called for Netanyahu to be murdered was fake
A threatening comment against the Israeli prime minister was posted on a night when protestors calling Netanyahu to resign were injured in Tel Aviv in violent clashes with right-wing activists who were allegedly armed with clubs, glass bottles, and knives
Omer Kabir
|
18:04 30.07.2020
Facebook deleted on Thursday an account that posted a comment calling for the assassination of Israeli Prime Minister Benjamin Netanyahu because it has found it to be fake. The account in question, calling itself "Dana Ron," a very common Israeli name, posted in the early hours of Wednesday, a comment stating that Netanyahu "should be taken down by force" and that "dictators can only be taken down with a bullet to the head." On Wednesday, Netanyahu tweeted a screenshot of the comment claiming he plans to report the matter to the police. Netanyahu also referenced the arrest of a man outside his office in Jerusalem, who allegedly planned to assassinate him.
אתמול המשטרה עצרה ליד משרד ראש הממשלה אדם שאיים לרצוח אותי ובכליו נמצאו סכינים. היום אגיש תלונה במשטרה נגד איום ההסתה המצורף כאן, שקורא לרצוח אותי ״עם כדור בראש״. pic.twitter.com/t2nUmATVwE

— Benjamin Netanyahu (@netanyahu) July 29, 2020
According to the police, the man, who was later revealed to be homeless and likely mentally unstable, arrived Tuesday at the premises and started spewing defamatory language against the prime minister and his wife. Two knives and a toy gun were found in his possession at the time of his arrest. Facebook's probe into the account came following Calcalilst's request for comment on concerns that the account was fake and hastily set up to appear to belong to an anti-Netanyahu activist. The violent comment came on a night when protestors calling Netanyahu to resign were injured in Tel Aviv in violent clashes with right-wing activists who were allegedly armed with clubs, glass bottles, and knives.