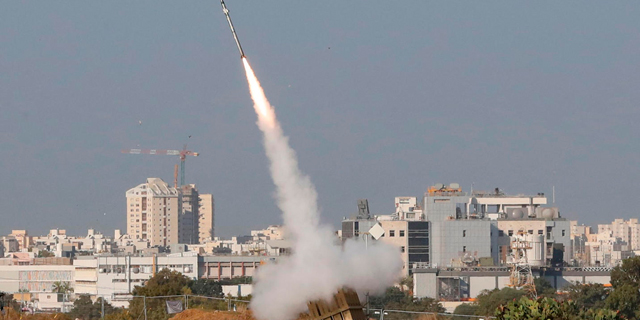 U.S. version of Iron Dome air defense system nears realization following Raytheon, Rafael deal
The new partnership, called Raytheon RAFAEL Area Protection Systems, will take place in the U.S. and will produce both the Iron Dome Weapon System, which consists of the Tamir interceptor and launcher, and the SkyHunter missile, a U.S. derivative of Tamir
Udi Etsion
|
10:05 04.08.2020
Israeli defense contractor Rafael Advanced Defense Systems Ltd. has signed a deal with U.S. defense contractor Raytheon Missile & Defense Systems to set up a joint production facility for Iron Dome interceptors.
The production of the new partnership, called Raytheon RAFAEL Area Protection Systems, will take place in the U.S., with a site location to be finalized by the end of the year.
The new facility will produce both the Iron Dome Weapon System, which consists of the Tamir interceptor and launcher, and the SkyHunter missile, a U.S. derivative of Tamir. Both Tamir and SkyHunter intercept incoming cruise missiles, unmanned aerial systems and short-range targets such as rockets, artillery, mortars and other aerial threats.
"We are excited about this new stage in our partnership with Raytheon and proud of our U.S. production," said Brig. Gen. (res.) Pini Yungman, executive vice president for Air and Missile Defense of Rafael Advanced Defense Systems. "We have long partnered on U.S. production of Iron Dome and are pleased to increase manufacturing and bring SkyHunter to the U.S."
The U.S. defense establishment rarely purchases foreign weapon systems but decided to acquire two Iron Dome air defense systems while it completes the development of its own solution. The systems, which were bought for $373 million, are set to become operational by the end of 2021. The cost of each Tamir interceptor is believed to be in the region of $50,000, making it a relatively cheap interceptor and easier to sell abroad.
Around 50% of the components of the Iron Dome system are already being manufactured in the U.S. before being assembled at Rafael's facility in Israel. This new venture is mainly meant to provide the U.S. with the 240 interceptors it acquired with the two Iron Dome systems.
"This will be the first Iron Dome all-up-round facility outside of Israel, and it will help the U.S. Department of Defense and allies across the globe obtain the system for defense of their service members and critical infrastructure," said Raytheon Missiles & Defense Systems' Sam Deneke, vice president of Land Warfare & Air Defense business execution.
The new deal was announced as an Antonov An-225 Mriya, the heaviest aircraft ever built designed by the Soviet Union in the 1980s, landed on Monday at Ben-Gurion Airport with two Oshkosh trucks belonging to the U.S. These two trucks will be overhauled by Rafael so that they can provide logistical support for the U.S. Iron Dome systems.
Iron Dome is the world's most-used air defense system with more than 2,500 operational intercepts and a success rate exceeding 90 percent. It has been extensively used by the IDF, protecting communities across Israel from hundreds of rockets fired by terrorist groups in the Gaza Strip.