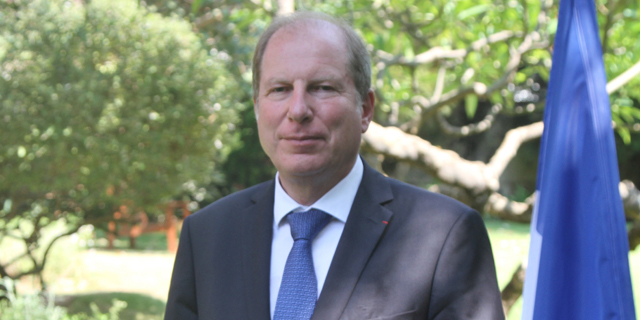 Bon Appétit: Ambassador says France has a large appetite for gourmet Israeli tech
Ambassador of France to Israel Eric Danon says there is much admiration in France towards the Israeli innovation ecosystem
Allon Sinai
|
22:15 06.08.2020
There is no denying the cultural differences between Israel and France, but Ambassador of France to Israel, Eric Danon, believes that once companies overcome the frustration and realize how the best of both cultures complement each other, they will discover huge untapped potential.
"Both countries have now progressed far on the learning curve to meet the challenge of coping with cultural differences in an efficient and positive way," Danon told CTech. "For instance, it is now well known and accepted that communication and time management is different in both cultures. The French agenda can hardly be rushed, and even more so when it comes to decision making, which requires time for maturation. For Israeli businessmen, this can appear rather frustrating, if not discouraging. But if we take the best in every culture and business practice, we can benefit from the other side's qualities and turn it into a strength. Therefore, there are many win-win projects that can be fostered, to the benefit of France and Israel."
France is undoubtedly one of Israel's top trade partners. Between 2008 and 2018 it was ranked ninth overall among all countries in trade with Israel, Number 11 in import and Number 5 in export. In 2017, Israeli export to France reached $1.6 billion, a 35% increase from the previous year. Only the U.S, Great Britain, China, and the Netherlands, received more Israeli export than France. The total trade between the countries in 2017 was $3.4 billion.
"For decades, France and Israel have constantly tightened up their economic relationships. The links between the two countries are multi-sectorial and robust. And the potential for growth is there. In 2019, France ranked first in Europe as a recipient of foreign direct investments (FDI). We count on Israel to contribute in this FDI flow, even more than now, in the coming years," said Danon.
The ambassador said there is much admiration in France towards the Israeli innovation ecosystem and that there are many fields in commerce and trade where cooperation is very relevant.
"Over the last few years alone, we have witnessed the implementation of Israeli technologies in France or by French corporations in third markets where they are operating. And on the other way round, the flow of investments made by French actors, whether by French VCs, French companies, or business angels, has sustained Israeli innovation by providing funding or establishing innovation labs and accelerators. To name a few: Orange, Iris Capital, Aster Capital, Alliance RNM (Renault–Nissan–Mitsubishi) and Schneider Electric," said Danon.
"We have also observed several innovative Israeli startups and scale-ups penetrate the French market and, from there, gain a leading position in Europe. Examples of these successful business stories that have started with a foothold in France, either in Paris or in regions such as Provence-Alpes-Côte d'Azur, Auvergne-Rhône Alpes and Alsace, include Netafim, Checkpoint, Varonis, Perion, Taboola, JFrog, to mention only a few."
Gisèle Hivert-Messeca, managing director of Business France in Israel and commercial counselor of the French Embassy in Israel, said that despite the effects of the Covid-19 pandemic, the motivation and appetite for doing business between both countries has not changed.
"The traveling between the two countries was stopped so physical meetings and exhibitions were canceled or re-adjusted to a virtual format. But the business itself did not stop," she told CTech. "The French government has provided massive economic and financial support to French companies, including an overall envelope of 110 billion Euros, as well as 315 billion Euros in State guarantees, and several other tools providing a safety net and boost engine to businesses. All the Israeli companies that have a subsidiary in France were able to benefit from this support plan. During the first months of the crisis, our Embassy was very much involved with so many issues on all fronts: repatriation, medical equipment mobilization, information to Israeli businesses present in France, and more. We did maintain a tight relationship with our network of Israeli investors to let them know of the help they could receive to face the crisis. We were also very proud to see some great Israeli companies who run industrial sites in France taking the initiative of manufacturing masks for the emergency services personnel. The pandemic only emphasized the long and deep friendship that exists between our two countries."
"This is the reason why we have within our Embassy, Business France Tech Hub, which is focused on assisting startups and tech companies, facilitating their access to both French and Israeli markets, and therefore bringing strategic added value, a strong network of contacts and a lifetime of experience in bilateral business partnerships," Hivert-Messeca explained. "In fact, the concept of Business France Tech Hub was born here and put together by the Tel Aviv team which is running the first pilot for the Agency worldwide. So, in a way, the 'Israeli Tech vibe' has inspired the Business France Agency to imagine the Business France 'office of the future' and surf along with the digital transformation wave."
Hivert-Messeca believes the many Jewish immigrants arriving in Israel from France over recent years can prove to be a great asset for both Israeli and French companies.
"You have today in Israel a pool of talents who made Aliya from France with education and work experience and can potentially bridge between the two business cultures and codes," she said. "The value of these talents is often underestimated or ignored in Israeli companies but can be a great asset for both French companies coming to Israel and Israeli companies going to France."
Hivert-Messeca added that Covid-19 has only strengthened the desire to do business and the need for innovation. "With the right assistance, the process of penetrating the French market can be 'fast-forwarded' in all types of collaborations: R&D partnerships, business development & sales, industrial deals, investments and fund-raising, acquisitions, and more."
As part of the Embassy's work to promote cooperation, it is planning to hold an event in the Ambassador's Residence in the coming months where French corporations will present their ongoing projects with Israeli companies and their future strategy of innovation.
"In the coming years, I can foresee even more complementarity as there are still many untapped areas of cooperation," added Ambassador Danon. "For instance, the Euronext stock exchange is not well known to most of the Israeli entrepreneurs. Yet, it plays an essential role in connecting seven European economies with the Paris financial center whose leadership keeps growing. Another example is the attractiveness of carrying out R&D activities in France. Not only are the costs of engineers and developers significantly lower in France than in Israel, but the incentives provided by the legal and reglementary framework is bringing the R&D expenses down. Not to mention the scientific and business academic ecosystem with French Grandes Ecoles ranking among the best graduate and postgraduate education providers worldwide."