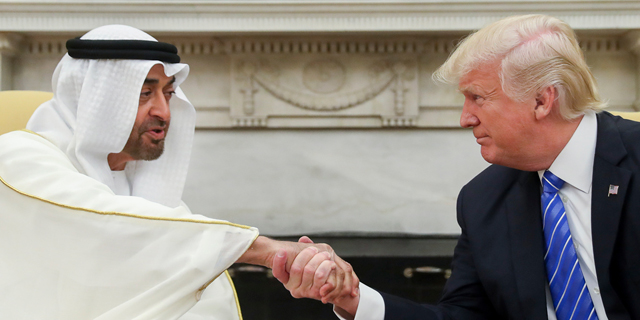 Which country is signing a peace agreement with Israel and what are Israelis buying on eBay during Covid-19?
CTech Daily Roundup: Trump announces "historic" peace agreement between Israel and UAE via Twitter
Trump announces "historic" peace agreement between Israel and UAE via Twitter. The move follows normalization of ties signaled by collaboration between Israeli and Emirati tech companies on Covid-19 solutions.
Read more
Analysis | Israel-UAE diplomatic ties open door to big business opportunities. Israeli companies will have ample chances in a market that imports goods and services worth close to $250 billion each year.
Read more
Mobility insurance company Bambi Dynamic secures series A funding. With mobility changing around the world, customers can now get insurance on existing and future transportation models. Read more
Covid-19 period saw number of Israeli sellers on eBay double, says head of regional operations. 'Second wave' products are geared to beauty, home fitness, and recreational products; sanitizing gels - out, running - in. Read more
Is Intel primed for a bounce back with SuperFin and Israeli-developed Alder Lake? Tech giant unveils the SuperFin, its name for a refined FinFET process that will sit at the heart of the Tiger Lake processor, and plan to launch Alder Lake, developed in Israel, in 2021. Read more
Future Meat wins Calcalist's FoodTech innovation startup contest. The sectors the competition focused on included food technology, agriculture technology, health, supply chain optimization, consumer experience, direct sales, and marketing innovation. Read more
Opinion | My last board meeting at Fiverr. "In the six years on board, I have seen Fiverr grow from a young start-up to a mature and inspiring company," writes Erez Shachar.
Read more
North Korea was behind the foiled hack into the heart of Israel's defense establishment. The attack is part of an ongoing campaign by the notorious Lazarus Group trying to steal data and money in the service of Pyongyang. Read more
Chelsea FC unveils Perfect Play training app developed by Israel's Coach-AI. The virtual coach in the heart of the application enables users to improve their football skills based on professional knowledge provided by the Chelsea FC Academy. Read more
Israeli defense officials tease next gen nuke interceptors. After a successful test of the Arrow 2 anti-ballistic missile system, all eyes are on the threats of the future.
Read more
Israel's AudioCodes Live Cloud for Microsoft Teams selected by Enablis. The communication service has selected Audiocodes for its customers in Australia and New Zealand. Read more
11 Israeli-founded startups named Covid Disrupters by the New York–Israel Business Alliance. Guided by data, it monitors economic development activity and trends in the public and private sectors to identify bilateral business growth potential.
Read more
Opinion | Navigating the critical step of making your first cybersecurity sales hire. YL Ventures Partner John Brennan spoke with Medigate Co-Founder & CEO Jonathan Langer and EVP Global Sales Tyson Hempel about the importance of selecting the right sales hire for early-stage cybersecurity startups and how to find them. Read more