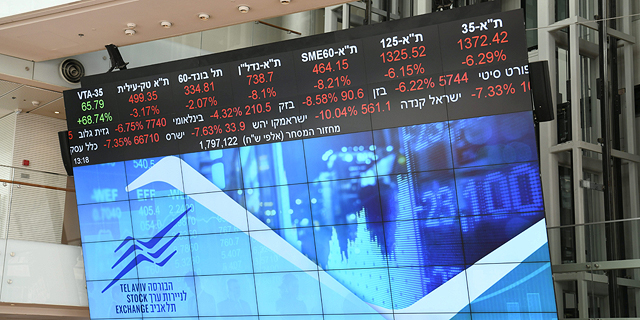 Will the Tel Aviv Stock Exchange's dreams of unicorns backfire?
The new TASE UP platform is meant to finally allow most Israelis to trade in local startups, but there are question marks abound
Sophie Shulman
|
12:56 17.08.2020
Tel Aviv Stock Exchange CEO Ittai Ben-Zeev presented an interesting and ambitious idea on Sunday with the aim of achieving the TASE's Holy Grail - trading in shares of local tech companies. For years the startup nation has seen the very best of its companies get bought up by foreign firms who then, should they decide to take it public, do so on Wall Street rather than in Israel.
The gap between the centrality of tech to the Israeli economy to its absence from the local stock exchange has been especially auspicious over the past six months when the tech shares in New York, including those of Israeli companies, have led the positive momentum, while the Tel Aviv exchange, with its dominant real estate and financial sector companies, lagged behind.
For years there has been talk of creating an Israeli Nasdaq but to no avail. The main barriers, at least according to the companies, is the strict reporting demanded by the Israeli law, and the public quipping that ensues when firms reveal how much their senior executives make. Ben-Zeev decided to sidestep the issue by setting up a new platform that will allow for trading in private companies, similar to a secondary platform which also exists on Nasdaq, and which is meant to allow investors exposure to so-called "dream" companies that may not want to go public and file the required report, but are interested in liquidating some of their shares.
The platform is meant for tech, BioMed, VC and hedge fund companies. A company that wants to register will have to meet certain criteria. The TASE is targeting two main groups of tech companies. The first, and the most sought after, are the relatively big and known companies, who are interested in doing some secondary deals, like veteran employees wanting to sell their shares or a VC hoping to liquidate its holdings which it acquired at an early stage.
The second group is early-stage startups that are struggling these days to raise funds from VCs, who prefer in a time a crisis to keep their reserves for additional investments in their portfolio companies rather than spending it on new companies. The platform will allow companies to raise money not just via shares, but also through bonds. Firms can register for trading on the platform even without having raised funds previously. The TASE will broker the deals so they are unlikely to be done on a daily basis, but rather less frequently.
"Throughout the past decade of growth in the tech scene there were more than 10,000 startups founded, but less than 4% of them went for a public offering. Most of the ones who succeeded were sold to foreign companies, mainly Americans," said Ben-Zeev. "The percentage of local investors in startups is low, and most of the VC money is also coming from abroad and not from Israel. Ultimately, over 90% of the money in Israeli tech isn't even local. That means that the economy's main growth engine is passing over the Israelis, even though the institutional investors have a lot of money. They are managing NIS 2 trillion ($590 billion), but very little of it goes to tech. That has started to change over the past year but there is still a long way to go."
It is estimated that there are 40,000-50,000 ratified investors in Israel who will also be able to take part in the platform. A large percentage of them operate as part of family offices and so far have had access to private tech companies by investing in VCs. The TASE is expecting that companies will begin registering to trade on the platform over the coming month.
Unlike previous attempts to try and lure tech companies to go public in Tel Aviv, it seems that Ben-Zeev and his team have considered most of the obstacles and removed them. But there are still two big question marks hovering over the realization of the vision. The first and easier issue to solve is regarding the demand, with institutions traditionally being wary of investing in tech. Due to the fact that with many tech companies there is no middle ground between success and failure and the closure of companies is far from a rarity, executives managing public funds prefer not to take any risks in order to avoid negative headlines. This obstacle has been partially neutralized by the IIA's safety net in the case of negative returns, which is also part of a separate discussion on whether taxpayers' money should actually be used for this cause.
The bigger obstacle though, and Ben-Zeev is well aware of it, is in the supply, as in which companies will want to be traded on the new platform. The big and mature tech companies, the unicorns worth over $1 billion who have demand for an IPO, will do so abroad. The good companies, who want to remain private, will raise money with the help of VCs, and some would say that even good small companies are managing to raise funds these days despite the crisis. That means that those companies who do register with the TASE could end up being those leftovers no one else is interested in investing in. An even worse scenario is that tech companies will stay away from the TASE and those who will take advantage of the cheap platform, which doesn't demand a prospectus or reporting, will be BioMed companies and alternative investment funds. That would be completely missing the entire goal of the exercise as it will be only "black boxes" that can't be opened that will be entering the public sphere.