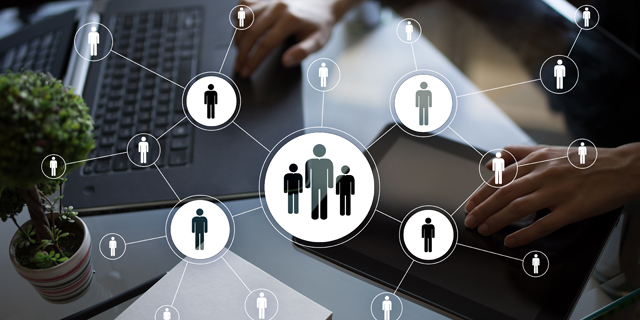 Covid-19: Nature's accelerator program for HR Tech
The Coronavirus pandemic forced tech companies to adopt virtual strategies that were only expected to take effect in the future. Nowhere was that felt more than the human capital management sector
James Spiro
|
12:15 23.08.2020
The Coronavirus (Covid-19) pandemic has thrown countless businesses into crisis, and across the board not many departments have felt it as hard as Human Resources. The HR department, once a well-oiled machine helping with job applications, employee onboarding, or inter-company relations, has been thrown into chaos since the outbreak when employees were instructed to work from home.
"HR is stuck in the spotlight as they have to really think outside of the box," said Stoke Talent CEO Shahar Erez. "Part of the challenge is how to work remotely and how to create engagement."
voice technology
, or healthcare, citizens of Startup Nation are quick to spot a problem in a sector and work on providing a technological solution. When Covid-19 hit, companies were forced to introduce technological solutions that may had been reserved for the future. "What Covid has done is accelerated two trends that we had already been seeing. One, not surprisingly, is digitization," explained Natalia Panowitcz, CEO of coding recruitment platform Codility. "The second is the whole world transitioning to work remotely... those that tried it don't want to go back to the office." Companies might not know when employees will be able to return to offices full time (some mangers, when speaking to CTech, estimated the end of 2021), but all agreed on one principle: 'The New Normal' is here to stay— and the future is here earlier than anticipated. CTech spoke with seven different companies that are based in Israel or are backed by Israeli investors, who are set on revolutionizing an industry preparing for worldwide disruption.
Gloat
Gloat doesn't help in the recruitment process externally, but it can help large enterprises better fulfill the desires of its current employees by helping them with external projects and skills development. Describing itself as
the "Tinder"
of the existing workforce, employees can sign up and 'swipe' on AI-driven opportunities within their large organizations to help career growth and inter-departmental relationships.
"Covid-19 hit. You have huge disruption to your business and a particular business unit could effectively grind to a halt," explained Brian Hershey, Manager of Business Development and Partnerships. "Say, retail operations— it might be hundreds of people who are now working from home and essentially not doing very much. How does the organization understand the underlying skill of those employees to determine what else the organization can use those skills for and make them portable?" Gloat helps fund people who may, for example, work in retail but would like to hone their design skills by helping out in other projects with other teams around the world.
Apploi
While Apploi is currently only based in the U.S., it attracted the attention of Israeli investors from venture capital firm Ourcrowd. Its solution acts as an end-to-end service for high-volume candidates in large institutions. Usually, its one-stop-shop solution to help standardize mass applicants affect areas like retail and hospitality, but Apploi has seen a huge spike in applicants in one specific industry: healthcare. According to data shared by Apploi and Ziprecruiter, there are roughly 10,000 nurse applications a day in the US.
"If you think of legacy HR systems, what they typically do is send you off to another website and you go through a rigid application process. Conversion is low on those, they're very conventional because they're based on a traditional resume," said CEO Adam Lewis. "Our job is to go through all the different platforms and sites, candidates are going to be funneled through our platform in a much more standardized way. Everything from screening, the workflow, applicant tracking, customizable workflows, communication - all the way through to onboarding."
Codility
Codility started as an automated test of programmatic skills for software engineering candidates for organizations. Ten years later, it now helps more than 1,500 customers from 70 countries find software engineers or programmers for their companies— an industry that is growing every year. When it comes to the hiring process during Covid-19, the shift from small businesses to large enterprises has been profound.
"We're seeing many smaller companies pausing recruitment," explained Panowitcz. "Open positions shifted to larger, more stable companies. That means that some of our customers that are hiring throughout the recession are seeing a 5-10 times increase in application numbers."
Empirical Hire
For high turnover roles, such as sales or retail, Israel-based Empirical Hire can help companies find ideal candidates from a mixture of conventional CVs and artificial intelligence. Based on the recruitment process for the Israeli Navy Seals, Founder Gal Sagy made a pre-hire assessment tool that tracks personality aspects, cognitive abilities, and soft skills for a better understanding of 'social desirability' among candidates. It then serves as a "Netflix" for HR tools— helping recruitment teams hire the right candidates based on an AI-driven recommendation tool.
"We provide a deeper understanding of the hiring process, on the pipeline, of who has the highest likelihood to succeed at that company," explained Sagy. "This recommendation (already) exists in every company: you rank every candidate based on the elements that you think are relevant. All we do is validate if what you're thinking is actually working or not. We're enabling companies to learn from past mistakes for the next hire."
Joonko
Joonko is a recruitment tool dedicated to helping women and people of color who might miss out on job opportunities. The pipeline of any job application is long, and Joonko helps sort candidates into pools where their journey can be realigned or re-purposed to another company if their initial application was unsuccessful, helping HR teams who might be overwhelmed with applicants.
"Before Covid-19, there was a common objection that we heard: people don't want to be on camera, they might be camera shy," added Eliav Rodman, myInterview's CMO. "That objection is now gone. Thousands of companies have tried video and use video for their process and have not encountered such objections. Video is here to stay."
Thriver
One of the biggest challenges faced by HR departments has been the need to keep their company culture alive when everyone is sent to work from home. Thriver, formerly Platterz, helps employers treat their employees to food, groceries, or wellness activities through 'Treat Cards.' Each card has a set budget and can be used to book therapy sessions, yoga classes, or team bonding experiences among colleagues as they battle the challenge of working remotely.
"In terms of HR and what's been happening with Covid-19: many HR departments, for the first two months or so, really tried to figure out what was happening," CEO Eran Henig recalls. "Everyone was in shock— how can they support our employees from home? Then it became, 'how do we cultivate relationships within companies and how do we foster them?' Now, you start seeing HR departments reaching out and looking for solutions that help with communication between employees."
"If in the past they used to go to happy hours with their colleagues after work, now we're moving to virtual experiences, it will still allow people to connect and bond," said Valeria Latman, VP of brand strategy. "I think the philosophy behind the company is general is the fundamental belief that in order for people to thrive they really need to come together and connect with others."
Stoke Talent
Stoke Talent is an on-demand talent management platform helping organizations manage their freelance and contractor workforces. As Covid-19 disrupts enterprises around the world, Stoke helps enterprises who are moving from full-time employees to more contract and flexible workforces. The 'New Normal' is here to stay - and Stoke aims to help with the HR management for the increased demand in paperwork and compliance.