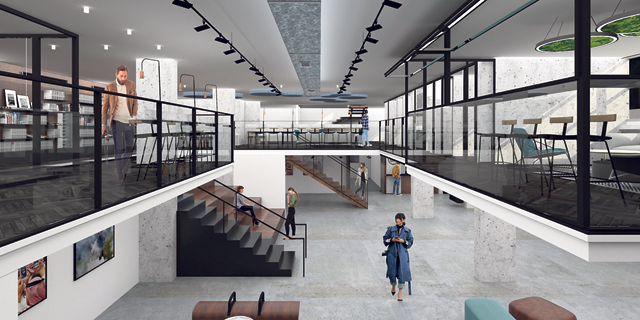 In the age of Instagram, everybody needs to speak the language of photography, says Eyecon founder
Israeli photojournalist Ziv Koren's latest project is a cultural center and photography school. "I love a good challenge," he said of launching the $5 million project during a pandemic
Reut Barnea
|
09:54 24.08.2020
Nowadays, everybody needs to speak the language of photography, according to Israeli photojournalist Ziv Koren. This notion is the leading concept behind Koren's most recent project, a 2,500-square-meter cultural center and photography school called Eyecon, which is scheduled to open in November in southern Tel Aviv. "Everyone, especially on social media, needs photography as a skill that complements their trade," Koren said. "This includes designers, makeup artists, or any professional that wants to be present on social media," he added.
In addition to the school, the center will include several galleries, shops for merchandise and professional tools, conference halls, meeting rooms, a cafe, and a library.
In addition to Koren, Eyecoon's faculty will include some of Israel's top photographers, such as Vardi Kahana and Eldad Rafaeli. Koren's partner and the main investor in the project is photographer and businesswoman Ella Waldman. Nasdaq-listed website building company Wix.com Ltd. and Japanese camera giant Canon Inc. are among the center's sponsors. Isn't it scary to launch such a project at a time like this?
"When the coronavirus (Covid-19) crisis started we were already knee-deep in this project. During lockdown, we had to put the entire team on furlough and decide whether we wanted to back down and go our separate ways.
"In the end, we made the riskier decision to push forward, despite the hardship and the fact that we will likely have to start the school year with smaller groups. There is a lot of chaos and we will have to learn to live with it. It is very challenging financially, but if we can survive this period we can live through anything." Over the past few months, Koren documented Israel's handling of the Covid-19 crisis. "In the first two months of the crisis I was taking 3,000 shots a day," he said. "The goal today is not just to take a good picture but to be able to create images that continue to echo in the collective memory, he added.
"I got into it knowing I was going to get infected. I spent hours in a protective suit, I self-quarantined, I didn't see my daughters or my parents. I was documenting Covid-19 from early in the morning to late at night. It wasn't any scarier than going into Gaza.
"I think fear is very important when you are in a truly dangerous situation. If you're not afraid you are either overconfident or you have trouble reading the situation. Either way, you're screwed." This notion of facing fears and pushing on is also what motivates Koren in his new project. "I don't believe in starting small," he said, "if you don't give it your all, your project doesn't have a right to exist. I don't believe in soft launches. This may be the worst time in history to start a business but I am in it for the long run."