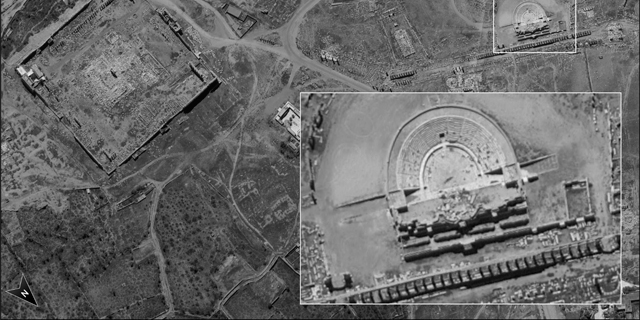 Defense ministry shares first images from Israel's state-of-the-art spy satellite
The images show the 'Tadmor' world heritage site in Syria, ancient ruins and the renowned Roman theater
A little over a month since it was launched, Israel's new Ofek 16 satellite is on the verge of going operational, with the Ministry of Defense and Israel Aerospace Industries publishing on Tuesday images taken by the satellite over Syria.
These images show the 'Tadmor' world heritage site, ancient ruins and the renowned Roman theater. The images published are in black and white but it is believed that Ofek 16 has far advanced capabilities that aren't displayed in the released photos.
Ofek 16, which was successfully launched into space in early July, is an electro-optical reconnaissance satellite. The engineering teams of the Directorate of Defense Research and Development (DDR&D) in the Ministry of Defense and the IAI are continuing their work in preparing it for operational use.
"In the near future, and upon the completion of the 'in orbit testing' process led by the DDR&D, IAI, and the IDF's Intelligence Directorate, the Ministry of Defense will transfer the satellite to IDF Unit 9900 for operational use," read IAI's statement.
"The State of Israel knows how to defend itself from enemies both near and far, as well as to protect its citizens everywhere, from any given location," said Defense Minister, Benny Gantz. "The technological means we develop in the Ministry of Defense together with our industries, are effective and significant tools in maintaining Israel's security. We will continue to work and promote Israel's technological advance and edge, an element that is essential in contending with the many challenges we face."
Israel is among only 13 countries that can launch their satellites independently, standing alongside the U.S., Russia, China, France, Italy, U.K., India, Japan, South Korea, North Korea, Ukraine and Iran.
The launch of Israel's first intelligence-gathering satellite, called Ofek1, was conducted on September 19, 1988. The launch was carried out in secret in order not to reveal to Israel's regional enemies the country's technological advancement.
The last time Israel launched a spy satellite was four years ago, when Ofek 11 took off from the Palmachim airbase in September 2016.