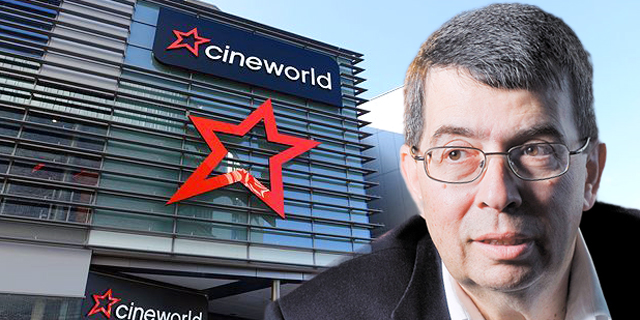 How Disney and Covid-19 blocked Mooky Greidinger's path to film distribution domination
An indictment by the Israel Competition Authority sheds a light on the practices of the man who owns and heads Cineworld
Yair Raveh
|
11:04 29.08.2020
Last year, without ever being aware of it, superstar British musician Elton John made history in Israel. It happened when Rocketman, the musical drama about his life, was screened in the Tel Aviv branch of Israeli artisan film theatre chain Lev Cinema Ltd.
This may sound like an everyday mundane occurrence but, in the Israeli film distribution and screening industry, it was unprecedented and only made possible thanks to an antitrust investigation, instigated by an unrelated request from The Walt Disney Company.
Rocketman's distributor in Israel is Forum Film Ltd., the sole distributor in the country for the vast majority of large Hollywood studios including Disney—as well as subsidiaries Marvel Entertainment and Pixar Animation Studios—20th Century Studios Inc., and Sony Pictures Entertainment Inc. Rocketman appears to be the first blockbuster film distributed by Forum Film and screened at Lev theatres in the latter's 40-year history.
This situation was not brought about by Lev's inclination towards artsy international cinema, but rather because it had no choice. Lev has shown interest in breaking the mold and screening the occasional blockbuster or children's summer hit in the past but Forum Film is known for its refusal to let competitors share a piece of its pie.
Forum Film is owned by Moshe (Mooky) Greidinger, who also owns Cinemas Theatres Ltd., which operates two of Israel's largest cinema chains, Rav Hen and megaplex chain yes Planet. As such, it is in Greidinger's interest to keep blockbusters like The Avengers or Star Wars to himself and not share them with his neighbors/ competitors.
Incidentally, Lev Tel Aviv is located six minutes away by foot from Rav Hen's complex in Dizengoff Square and the two are the only remaining full-time cinema theatres in the city.
In Israel, the film distribution industry as a whole is ripe with cross-ownership issues as, for the past 40 years, it has been run by just eight families, most of whom are both distributors and the owners of screening venues. Until around 10 years ago, this situation meant every theatre chain only screened the movies its owner distributed.
To put things simply: in general, it is in the distributor's best interest to push their films to as many theatres as possible in order to sell more tickets for each film. A theatre owner's interests, on the other hand, are to get as many exclusive titles as possible to make sure the audience comes to their theatre and not go to their competitors.
When the distributor and the theatre owner are the same person—who gets all the profits from both ticket sales and popcorn, snacks, and drinks sales—it is in their interest to prevent other nearby theatres from screening the films they distribute.
Two years ago, Greidinger's conflicting business interests came to the attention of the Israel Competition Authority, thanks to no other than the Disney Corporation. In late 2018, Disney approached regulators around the world, including in Israel, to inform them it was negotiating the acquisition of Fox's 20th Century Studios and examine whether the deal creates antitrust issues in any jurisdiction. This was when the Israel Competition Authority realized that, in Israel, Disney and Fox have already merged and did it without proper oversight.
This happened in 2010 when Greidinger acquired AD Matalon & Co. Ltd., the local distributor of the films of both Sony and Fox. The merger turned Forum Film into a local juggernaut with exclusive distribution rights for the films of the four studios responsible for 72% of income for the American film industry in 2019.
While such a dramatic game-changing merger definitely raised some red flags, at the time, the authority, then-called the Antitrust Authority, approved it, conditioning only that Forum Film does not prevent competing theatres from renting out its films.
But, that is exactly what Forum Film allegedly did. In an indictment against Greidinger and Forum Film filed earlier this month, the Competition Authority claimed that during the years 2015-2019, Forum Film systematically refused to supply movies to Lev Tel Aviv, especially films for children.
The investigation was what led Forum Film to fold and offer Rocketman to Lev. From then on, the walls have been lifted and Lev and other competing theatres were allowed to screen such hits as Toy Story 4, The Lion King, and Once Upon a Time in Hollywood.
In a way, Disney, the exclusive rights to which were key to Greidinger's Israeli empire, was also what instigated the investigation against him.
Upon the indictment, Greidinger wrote to the authority's director-general Michal Halperin that the choice to pursue action against Forum Film now, as it is weakened by the coronavirus (Covid-19) crisis, was unfortunate. "The whole entertainment industry, including movie theaters, is crashing," he wrote. "The company is out of operation with around 1,000 employees furloughed, there are no movies to distribute, and the theatres are locked shut, with no expected date of return to business," he added.
The indictment indeed came at a very difficult and strange time for the movie industry but it is an important document that could shape the future of the sector long after the Covid-19 era and it provides a glimpse at how Greidinger, a local Israeli distributor, became an international film tycoon, who, for the last six years has been at the helm of the second-largest movie theatre chain in the world, Cineworld Group PLC, which has nearly 800 venues in Europe, the U.K., and North America.
In 1976, Greidinger, now 67, took over the family business, which started out with two movie theatres in Haifa in the 1930s. His father was the one to sign the distribution deal with Disney in 1967 and in 1982 Greidinger himself renovated the Tel Aviv Hen cinema to become Israel's first multiplex, Rav Hen.
In 1997, Greidinger expanded beyond Israel, to Eastern Europe, where he established a chain of megaplexes, each with over 15 screens. Established in Hungary before expanding to Poland, Romania, and the Chech Republic, Greidinger's Cinema City International NV is now the largest cinema chain in Eastern Europe.
In 2014, following its merger with Cineworld, it became Europe's second-largest movie theater chain. London-listed Cineworld paid around GBP 500 million as part of the deal that made Greidinger and his brother Israel the biggest stakeholders in the merged company, now holding a combined 20% stake. Greidinger was also appointed CEO.
But, this was not enough to satisfy Greidinger's growing appetite and, in 2018, Cineworld acquired American movie theatre chain Regal Cinemas Inc. for around $3.6 billion. With this merger, Cineworld now has 9,500 screens around the world, making it the second-largest global chain, after AMC Entertainment Holdings Inc.
Greidinger, however, still wanted to be the biggest and early this year attempted to acquire Toronto-headquartered Cineplex Inc. for around $1.65 billion. It took a literal force of nature to stop Cineworld from completing the acquisition. Within three months of the Covid-19 outbreak, Cineworld's stock dropped by 83% and the company was forced to cancel the deal, sending the two companies into a swirl of legal battles, each accusing the other of breach of contract.
Back to Israel, in 2002, a new player, Moshe Edry, entered the small local industry, forever changing it when he founded Israel's first megaplex. Edry and his brother Leon's choice to name their complex Cinema City—the same as Greidinger's Eastern European chain—was rumored to enrage the cinema mogul, especially when he realized he had no legal way to prevent them from doing so.
Media reports at the time claimed Greidinger refused to let the Edry brothers screen the prominent films he distributed. When asked about it, earlier this week, however, Edry denied the reports, insisting there was no boycott. He also claimed that before the launch he offered Greidinger to join in as a partner, yet he did not want to. "I think he regrets it to this day," Edry told Calcalist.
In response to Calcalist's request for comment, Greidinger also denied the claims, stating that "Forum Film regularly supplied its films to Cinema City from day one."
Inspired by Cinema City's phenomenal success, the Greidinger brothers launched their own Israeli megaplex yes Planet in Tel Aviv suburb Ramat Gan. It soon became a national chain.
This move, while meant to fight back at Cinema City, ironically brought some peace to the industry. When you have 20 different screens to fill at any given moment, you cannot boycott anyone and you have to collaborate—screening the competitors' films and letting them screen your own.
Securing a truce of sorts in the megaplex front allowed Greidinger to grow further on other fronts. When, in 2010, Globus Max, which operated two IMAX theatres in Israel, was having trouble renewing its franchise contract with New York-listed IMAX Corp., Greidinger stepped in. Using his connections as the Eastern European franchise holder for IMAX, he was able to land the contract for yes Planet.
When Globus Max stalled on the renewal of its distribution contract with Paramount Pictures Corp., Greidinger intervened again, making him the sole distributor in Israel for Hollywood's four biggest studios.
Greidinger is known for allegedly using some shady practices for which he has also been indicted, yet the industry hardly makes a peep on the matter. "His biggest ambition was to create a closed market," one industry veteran who spoke on condition of anonymity told Calcalist. "He has all the films and he has the theatres, so he doesn't need anyone else," they said. "Even when he had the rights for independent films he chose not to run, he was reluctant to let competitors have them."
Asked why no one sent an official complaint to the Competition Authority, a distribution industry veteran who spoke on condition of anonymity told Calcalist, they were afraid of retribution. "It is a small and vindictive industry," they said.
Greidinger's hold over the film industry does not stop with the small Israeli market. In 2015, hackers got into Sony Pictures' email server and leaked its content to Wikileaks, providing a glimpse at Greidinger's power over the heads of the successful Hollywood studio.
Sony, the correspondence showed, realized that if it wanted to release a blockbuster in Europe, it needed to have Greidinger on board. When one studio head suggested narrowing the distribution window of a specific film so it could be issued on DVD earlier, the studio's distribution manager replied it must be coordinated with Greidinger, as he may not like the idea. The message was clear: if Greidinger passes on a film, it is a goner.
Last year, Greidinger reportedly decided to use his power to boycott the British film industry. After Roma, a film produced and distributed by online streaming giant Netflix, won best picture in the British Academy Film Awards (BAFTA), reports in theU.K. claimed Greidinger notified academy members they will no longer gain free entrance to Cineworld theatres.
Since Netflix releases its films direct to streaming, either doing so simultaneously with theatre screening or forgoing the physical screening altogether, Greidinger views it as a bitter rival to his industry's whole business model. The fact that this company received a prestigious film industry award appears to have put him over the edge. Needless to say, he refuses to screen Netflix's films in any of his theatres.
While 2020 did strike some heavy blows against Greidinger, he did get one piece of good news this year. On the same week Greidingerwas indicted in Israel, a U.S. federal judge agreed to cancel a 1948 decree that prohibited movie studios from owning movie theatre chains. This ruling will likely put an end to aspirations that Israel will follow in the footsteps of Uncle Sam and force distributors to give their theatres up.
In addition, this legislative change could result in a very likely scenario in which Greidinger brings Disney in as a partner in Cineworld, utilizing his long relationship with the studio. This could be his way of implementing in the U.S. the very thing he was prohibited from doing in Israel. And so, if you didn't want him in Haifa and Tel Aviv, you might still find him reigning over the movie distribution industry in Los Angeles and New York.
In response to Calcalist's request for comment, Forum Film stated that the writer of this article is in an ongoing dispute with Greindiger and "has been badgering Forum Film and Greidinger on a personal note for years, through conventional media as well as his personal blog, while obsessively pursuing them and spreading baseless data and rumors."
Referring to the cross-ownership issue, the company stated that "Raveh refers to a situation that exists throughout the western world as 'problematic.' This situation also exists in the U.S. where, for example, theater chain National Amusements Inc. owns the prominent film studio Paramount Pictures Corp. This state of affairs has many advantages and it assures the effectiveness of the distribution process and the broadening of the variety of films available to viewers."
Referring to the Competition Authority's claims that Forum Films did not provide Lev with movies it distributed, the company claimed it has in the past and continues to supply the Lev theatre chain with films. "The authority's claims refer to a negligible number of titles that allegedly were not supplied solely to Lev Tel Aviv," the company added.